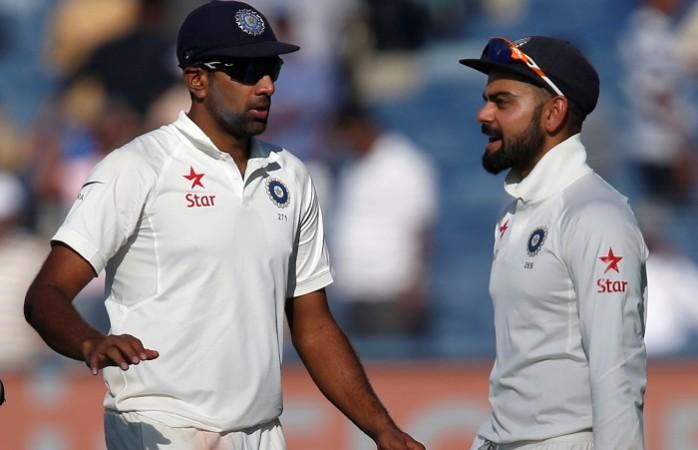 Every great team rely on a few players to keep inspiring them to greater things, of that there is no doubt. Barcelona would not have won all the trophies they did over the last decade if a certain Lionel Messi wasn't in the team. India would not have won all the Test matches they have won in the last couple of years if Virat Kohli had not scored all those runs and R Ashwin had not picked up all those wickets.
India crumble under Aussie pressure
But the key question, as far as the India Test team are concerned, is: Are they too reliant on Kohli and Ashwin?
When Ashwin was not right at the top of his game on day one of the first Test in Pune, India needed one of the other two spinners to run through the Australia batting lineup, so that their first innings total would not go past 200.
Instead, Ravindra Jadeja, despite bowling quite a few good deliveries, could only pick two wickets and Jayant Yadav was quite disappointing, showing his limitations.
When Virat Kohli got out to a really poor shot on ay two, showing he just might be human after all, the captain needed one of the other batsmen to step up, put up a big score, forge a nice partnership with someone, and take India close to Australia's total, if not beyond.
Instead, Rahul played one of the most daft shots you are likely to see in this series, despite being settled, while Ajinkya Rahane looked like an overseas player batting in such conditions for the first time, such was his struggles against spin.
If Rahane does not go back to the drawing board, fix his obvious problems against spin, soon, there will come a time when, if the wicket is expected to aid the slower bowlers, he will be dropped for someone else.
Such is his struggles against the spinners, and not for one over did he look comfortable against either Nathan Lyon or Steve O'Keefe. With all due respect to O'Keefe, he is not the greatest spinner in the world, not even close to Ashwin or Jadeja's level. Yet, the India batsmen made the left-arm orthodox bowler look like one.
One after the other, when they were put under pressure, pressed that crumble button – yes, there was a bit of luck in there for Australia as well, but that is what you get when you go on a roll, as the Indians themselves know pretty well.
In the end, with Ashwin and Kohli not at their best in the first innings of this Test match, Australia managed to post an above-par score of 260, before bowling out India for 105.
Rahul, Rahane and Wriddhiman Saha failed, while asking the lower order to once against chip in with the bat was perhaps asking a bit too much.
Soon, as good as this India team might be, there will come a time when Kohli will feel, if he doesn't score, India might just crumble again, particularly on wickets that aren't a batsman's paradise.
Ashwin will feel the same way while he's bowling and going back to the 1990s when if Sachin Tendulkar got out, India were done and dusted, is not something this team will want.
While this first Test against Australia isn't quite done yet – who knows, Australia might be bowled out for a low total (guess who is likely to take most of the wickets if that happens) and India might chase down an improbably score (if that is to happen one batsman will, obviously, have to make a big score) – you feel the only way India will find a way back is if Ashwin and Kohli shine.
The onus is on the rest of the players to go on take wickets and make big scores – the Chennai Test against England is a good example of that, but then the situation was such that there was absolutely no pressure, with India already having wrapped up the series – not just when everything is hunky dory, but when the pressure is on, when the team really needs something special from you.
That is what makes a truly great team, and if India want to become one, Kohli and Ashwin are going to need a lot more help and the faith that if they have an off day, particularly during trying circumstances, there will be someone else to pick up the slack.