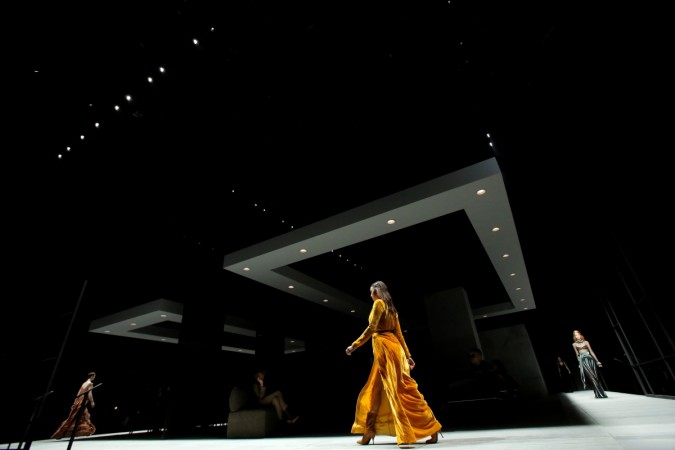 It's that time of the year when fashionistas all over the world have their sights set on the runway of the New York Fashion Week. However, Indians all over the world now have another reason to get excited, as the fashion event will also see Indian designer Prarthana showcasing her brand, Kovet, on Saturday, February 10.
The designer will showcase her Spring Summer 2018 collection titled Unabridged with Society Fashion Week and spoke about how she is looking forward to showcasing India's sense of style and emerging sensibilities on an international stage.
"I believe in portraying a woman as a perfect blend of sensuality and class. Dressing should be defined by body shape, personal colours and variation. My new collection is all about this. It is young and feminine with elegant silhouettes and interesting techniques," IANS quoted Prarthana as saying.
While scores of designers will showcase their Autumn/Winter 2018 Ready-to-Wear lines, Prarthana will send models down the runway in resort wear, brunch wear, red carpet wear and power dressing. All these styles have reportedly been inspired from elements like sun, sand, pearls, fuchsia flower, and divas.
One look at Kovet's Instagram page and we cannot wait for the clock to strike 8.30 pm ET to watch what Prarthana presents. The brand's Instagram page features quite a few interesting sketches and the designer has clearly also dressed many celebs. Take a look.
The New York Fashion Week started on Thursday, February 8, and will go on until Friday, February 16. The show will features designs of numerous A-list designers such as Tom Ford, Carolina Herrera, Calvin Klein, Michael Kors, Prabal Gurung, Victoria Beckham, Ralph Lauren, Marc Jacobs, Naeem Khan and many more.
Missing Marchesa and Georgina Chapman
While we can't wait to watch the creations of many of these designers and brands, the absence of Marchesa is not something that can easily be ignored. Georgina Chapman, designer and estranged wife of Harvey Weinstein, pulled her show from the fashion week just a few days ago due to the sexual abuse allegations against Weinstein. A regular at the show, Chapman is said to have been "too scared."
"Georgina couldn't go through with it. She was too scared," a source told The New York Post. "They were gung ho . . . but as they got closer, she choked."
The 41-year-old designer who announced that she was leaving Weinstein in the wake of the allegations, earlier told People magazine that her estranged husband's actions were "unforgivable."
"My heart breaks for all the women who have suffered tremendous pain because of these unforgivable actions," she had then said. "I have chosen to leave my husband. Caring for my young children is my first priority and I ask the media for privacy at this time."
Instead of the regular runway show, Marchesa will have a digital presentation on February 14. "Marchesa is looking forward to presenting their Fall '18 collection in an updated format this season," the brand's spokesperson told the Post.