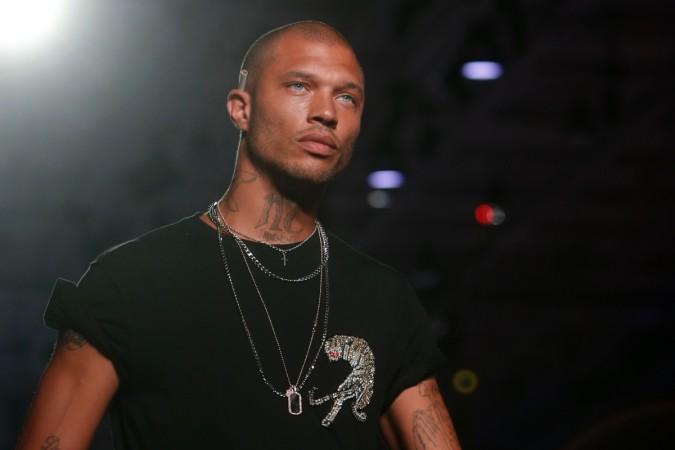 Whoever said old habits die hard and convicted felons cannot really turn their lives around hadn't heard of Jeremy Meeks. Often tagged as the "hottest felon," Meeks garnered international attention when he was arrested on gang-related charges and his mug shot made its way to the internet in 2014.
While the social media users clearly saw something in the blue-eyed felon, Hollywood agents weren't far behind in recognising his good looks and the mark it could make on the runway. Since his release, Meeks has made quite some news in the fashion industry, and over the weekend he scorched the Milan Fashion Week runway in the Philipp Plein Sport show.
Meeks first walked the runway in a casual rebellious look. Dressed in a black t-shirt and blue ripped jeans, the 33-year-old carried a motorcycle jacket and accessorised with a few funky chains. A cigarette carelessly tucked behind his ear completed his look.
Later, Meeks changed into low-rise khaki slim fit trousers and went topless. Flaunting a muscular body and some intricate tattoos, Meeks completed the look with black casual shoes. He also showcased another look, in which he walked the runway dressed in a pair of sporty navy blue track pants with eye-grabbing red piping. He went topless for this look as well.
Meanwhile, this is not the first time that the ex-felon has made a mark in the fashion scene. Meeks made a runway debut at the New York Fashion Week for Plein in February this year and seems to have impressed the designer enough to be roped in once again for his Milan Fashion Week show.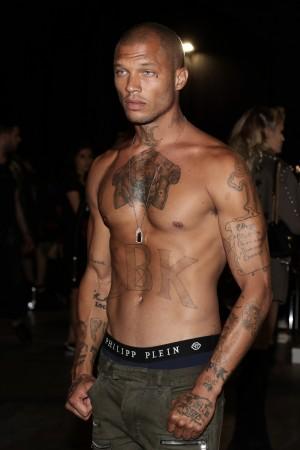 Meeks too seemed to enjoy the attention he garnered at NYFW and told WWD: "It was amazing. It just wasn't what I thought it was going to be. The adrenaline rush was a high I've never felt before, and I just fell in love with it." He had also said that he would want to continue modelling and it looks like his wishes have come true.
However, who would have thought the Meeks would be making news for his modelling assignments when he first caught the public eye. Probably, not even him! He was arrested in 2014 for possessing a .45 caliber semiautomatic pistol and had admitted that he was a gang member. While he was released in 2016 and has since turned his life around in the most "fashionable" way, he has previously served a nine-year sentence a felony grand theft conviction from 2002, reported Mirror UK.