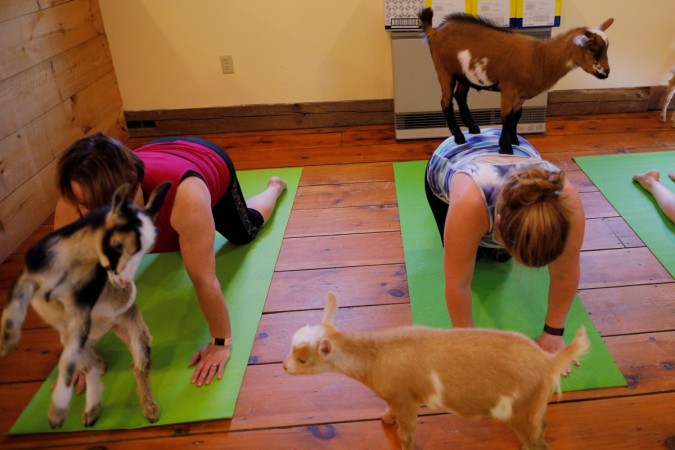 If you find it difficult to stick to a workout routine and have been looking for a gym buddy, this just might be your thing. However, be warned that this workout buddy is four-legged and bleats. After beer yoga and alien yoga surprised the world, here comes goat yoga, another workout trend that is fast catching on.
Yes, it is actually a form of workout. While it may look all nice and fun – the videos make us want to cuddle the adorable kids – goat yoga is also said to have numerous mental and physical health benefits.
Goat yoga is the brainchild of freelance photographer and farm owner Lainey Morse and involves practising yoga with goats freely roaming around. Not just that, these goats might want to be cuddled in the process and might even hop onto your back while you are trying to hold a position, but it's all a part of the fun.
Talking about how the form of workout is therapeutic, Morse explains on her website: "I love my goats. They always make me smile, and the same goes for everyone who visits my farm."
Morse first came up with the idea of goat yoga when she was going through a rough patch in life in 2016. But a tiny little goat changed her perspective and she realised that it could bring relief to a lot of other people.
"There was one little baby doeling in particular that really brightened my days. Her name is Annie Goatley. Annie is a Nigerian Dwarf mini goat. Every time I looked at her, she brought a smile to my face, and I knew everything was going to work out," Morse explains.
"As I used the goats for my personal therapy, I started thinking that I could help other people that are suffering from stress, depression, illness, autism or PTSD by starting a therapy program using my goats."
So like canine therapy, she decided to introduce something that involved goats and that is how goat yoga came into being. And she believes that one doesn't need a special kind of goat for therapy; any breed of goat can bring relief and a sense of peace as long as they are "friendly and enjoy human contact."
"They should be raised from a young age to have as much human contact and affection as possible. They should be well-behaved in public. Wethers (a castrated goat) and does make the best therapy goats," she explains.
While Morse came up with the idea on her farm, the trend has now reached numerous other places and social media is flooded with images of people practising goat yoga. And we must say it looks like a lot of fun!
Don't believe us? Take a look
Meanwhile, the social media has also been raving about alien yoga. The move, which is actually called Nauli, is a cleansing exercise beneficial for internal organs and also tones the abdominal muscles, according to Nauli.org. While this form of yoga isn't widely taught in the world yet, it is said to be one of the first exercises that were taught to students in early times.
Another form of yoga that has become the talk of the town of late is beer yoga, in which practitioners drink beer while performing yoga moves.