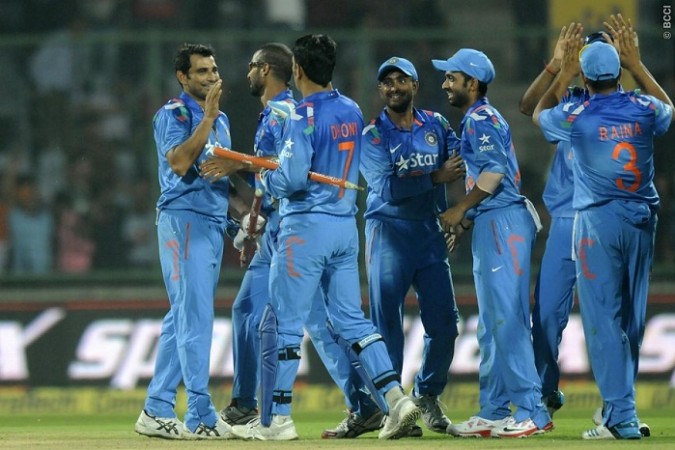 India will be without one of their faster bowlers in the lineup for the ODI series against Sri Lanka, after Mohammed Shami was ruled out of all five matches with an injury.
Shami has been a regular for India in all forms of the game, and is one of the key bowlers for MS Dhoni up front as well as in the death overs.
The fast bowler is one of the few Indians who can hit the yorker length consistently and he will be missed by India for the series against Sri Lanka. The BCCI, in their release, did not specify the nature of the injury which ruled Shami out.
Shami will be replaced by Dhawal Kulkarni in the squad for the first three ODIs, with the Mumbaikar given another opportunity to make his mark in the international game.
India play Sri Lanka in five ODIs, a series which was hurriedly scheduled after the West Indies pulled out due to a pay dispute, with the first of them starting on 2 November in Cuttack.
Meanwhile, Sri Lanka skipper Angelo Mathews bemoaned the lack of preparation for this ODI series against India, revealing his team were not prepared to take the field in a competitive game so quickly.
"The preparation for the series is not that great, we only had a few practice sessions especially with the weather interrupting," Mathews said. "It is not the ideal preparation for an Indian tour but we will do our best to prepare ourselves and take it as it comes."
Sri Lanka were preparing themselves for a home series against England starting in the end of November, but Mathews admitted that the team will now have to adapt to the conditions as quickly as possible.
"We had a good break to improve our physical fitness -- a good month and a half fitness session, and now we have to maintain that fitness," added Mathews. "I am sure during the Indian matches we won't be able to do strenuous training as we did in the past one and a half months, but we will try and maintain it and look at it positively.
"We were preparing for the England series because we knew that there weren't any tours coming before that. We were focused on a lot on fitness and we just started batting three days ago. We only had a few skill-training sessions. We needed to reach our peak levels during the England series but now that we've been thrown into a challenge we will try our best to be prepared as much as we can."