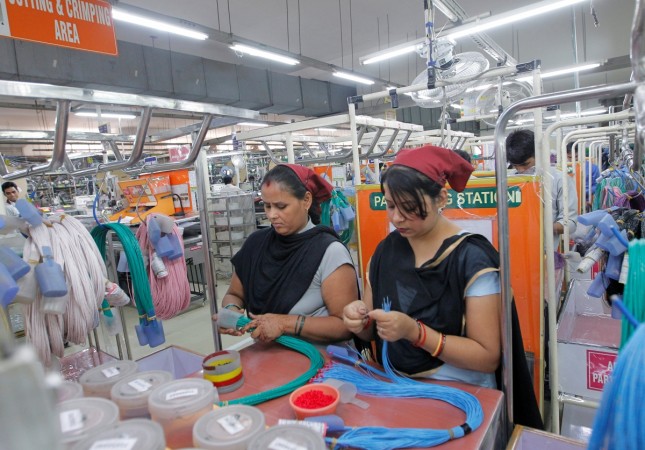 Indian factory activity expanded at its fastest pace in almost two years in October, boosted by a surge in output and new orders, but it came alongside a sharp rise in input costs and some passed on to end-consumers, a survey showed.
Tuesday's data should help reinforce views that Asia's third largest economy is growing at a robust pace, but it could also point to risks of inflation gathering steam and crimping the Reserve Bank of India's room to ease policy further.
The Nikkei/Markit Manufacturing Purchasing Managers' Index shot up to 54.4 in October, a 22-month high from September's 52.1, marking the biggest monthly jump in almost five years. The PMI has stayed above the 50 level that separates growth from contraction for the 10th straight month.
"The sector looks to be building on the foundation of the implied pick-up in growth in the previous quarter," said Pollyanna De Lima, economist at survey compiler IHS Markit.
An output sub-index, which measures overall production, was at 57.2 in October, the highest since December 2012, and up sharply from 53.3 in September.
The acceleration in output came after a surge in new orders, a sub-index measuring both domestic and external demand, which mirrored the main PMI and rose to its highest since December 2014.
But the expansion resulted in higher prices.
"Part of the increase in cost burdens was passed on to consumers by way of higher selling prices, which is likely to continue on an upward trend as we head towards the year end," De Lima said.
Consumer inflation cooled to a 13-month low in September due to moderating food prices, but the PMIs suggest it could soon pick up if the current trend continues.
That will likely affect prospects of further easing from the RBI, which earlier this month surprised markets by cutting its benchmark repo rate 25 basis points to 6.25 percent.
Economists polled by Reuters a few weeks ago forecast a follow-on rate cut to 6.00 percent in the first quarter of 2017.