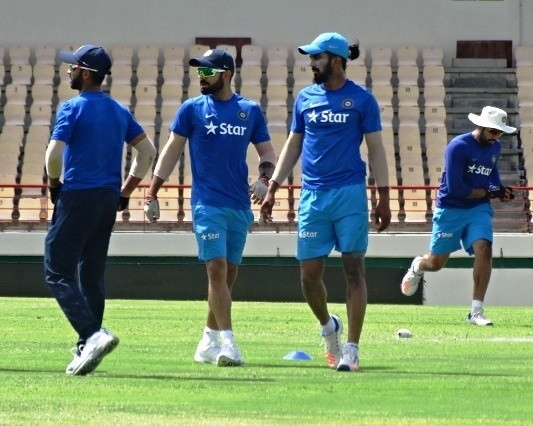 India have always been a good batting side, and the present crop of batsmen in the Test format are carrying on that tradition forward. With players like Murali Vijay, Shikhar Dhawan, Virat Kohli, KL Rahul, Cheteshwar Pujara and Ajinkya Rahane contributing with the bat more often than not, India are winning Test matches home and away.
Batting coach Sanjay Bangar rates these batsmen highly, and even believes that they have it in them to replicates the success of the famous "Fab Four" of Indian cricket -- Sachin Tendulkar, Sourav Ganguly, Rahul Dravid and VVS Laxman.
"If this group of players continues to perform well - then they could form a line-up which would be similar to the one India had in the early 2000s which had Sachin, Dravid, Ganguly and Laxman. These players have immense potential and they are well on their way to achieving great things for Indian cricket," Cricbuzz quoted Bangar as saying.
There is some serious competition in the batting lineup, and the batsmen have to perform in each and every match to ensure they get are in the playing XI. This is a clear message to the players of the Indian team -- performance is key.
One of the players who took advantage of that message was KL Rahul, who scored a hundred when he was given an opportunity in the Test series against the West Indies, to make it difficult for Virat Kohli and Anil Kumble to drop him.
"He (Rahul) has created a lot of competition among the boys. Rahul has made it count each time he has gone in to bat. Be it the Test centuries he scored in Sydney, Colombo, Jamaica or the hundreds in ODIs and T20s -- Rahul has been fantastic," Bangar said.
After the success in the Test format under the leadership of Kohli, who has helped India defeat Sri Lanka, South Africa and West Indies, Kumble and co. will hope to replicate that form in the upcoming matches against New Zealand at home. The thinktank will have another selection headache ahead of the 1st Test, which starts on Sep. 22, when it comes to the batting lineup.
Irrespective of the players picked in the playing XI, one thing is for sure, India will play some positive cricket, which has become their forte under Kohli.
"The kind of progress this team has made in the last two years, indicates the work being put in. Our goal has been to play an aggressive brand of cricket," said Bangar.