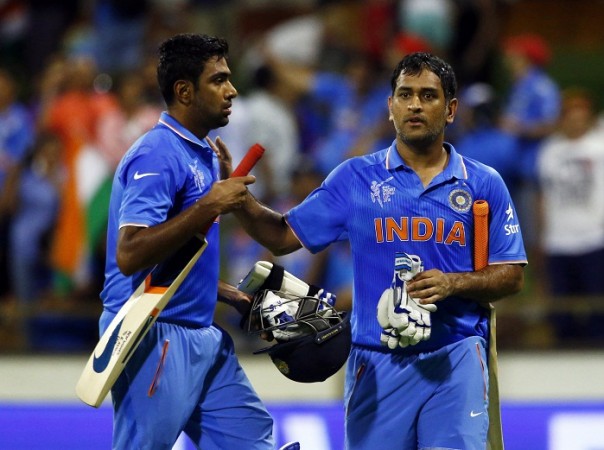 India's premier spinner R Ashwin grabbed headlines in the recent past after failing to name India star MS Dhoni during his speech when he became the ICC Cricketer of the Year and ICC Test Cricket of the Year.
Dhoni's supporters were not happy with it, but Ashwin did leave no stone unturned and praised the Jharkhand man on Twitter for his leadership skills after learning of his decision to quit captaincy in both the ODI and T20 team.
India's team for England ODI and T20 series to be announced today.
Dhoni, who has been one of the best captains under which Ashwin has played, took this decision to quit on Wednesday, surprising one and many.
The former India captain always looked up to his off-spinner in all formats for wickets when the team was in desperate need. Ashwin, most of the times, delivered the goods. Ashwin, in one of his tweets, also spoke about their long chat in the middle, before the final over of the ICC Champions Trophy, which they won after boiling down to the last over of the match.
Not only has Ashwin played under Dhoni for India, but also in the Indian Premier League. First they were part of the Chennai Super Kings, which is currently suspended, and now they play for Rising Pune Supergiants, and will join hands once again for the latter in the upcoming tenth edition of the IPL, scheduled to start in April-May.
No one understands Ashwin better than Dhoni as he is also the wicketkeeper of the Indian team, and he knows the different types of variations, which come out of his hand as well.
With Dhoni's decision to quit, it is Test captain Virat Kohli, who will take over the leadership from the Jharkhand man in the ODIs and T20s. With India's team for the upcoming England ODI and T20 series to be announced today, the official announcement of Kohli as India captain in ODI and T20 should also take shape.
However, Dhoni will still play an important role as the wicket-keeper and the senior member of the Indian team. Kohli will greatly benefit from the presence of Dhoni on the field as he can help the Delhi man and provide him suggestions as well.
What an unbelievable ride it's been #msdhoni ,u managed to pull through some stellar records as a leader.Wield the willow wild now???

— Ashwin Ravichandran (@ashwinravi99) January 5, 2017
The champions trophy last over discussion before and during the over will always remain etched in my memory.Great victories with #msdhoni

— Ashwin Ravichandran (@ashwinravi99) January 5, 2017