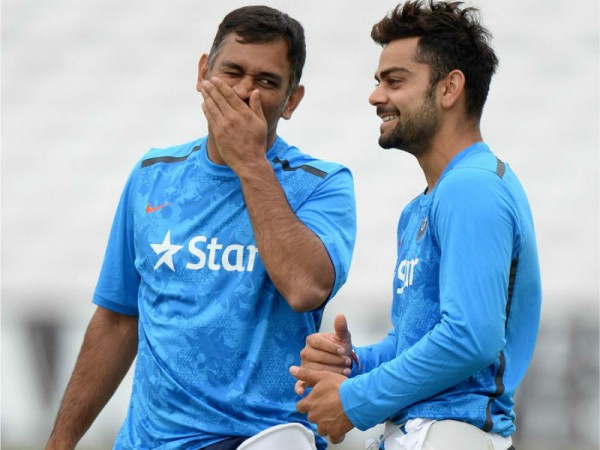 KL Rahul may not have played much cricket for India so far, but is gradually becoming an important batsman for team India, scoring runs across all formats. The right-hander has played under the leadership of MS Dhoni (ODI and T20 captain) as well as Virat Kohli (Test), and believes both of them lead by example on the field.
Dhoni and Kohli have been brilliant in leading Team India, but they have contrasting approach towards the game. The Jharkhand man is known for his cool endeavour, not showing much emotions in victory or defeat. Kohli, on the other hand, is known for "in your face approach" and does not mind showing his aggression on the field as well.
Rahul made his Test debut when Dhoni was still in charge of the longer format of the game, and considers the wicketkeeper batsman to be the best captain ever. Rahul spoke about Dhoni and Kohli's influence in the team.
"With MS having so much experience behind him he understands what is best for the team. He is obviously the best captain that India or the world has ever seen there is no doubt about that. When he is in the dressing room there is a bit of calm, you know that the captain is doing most of the thinking, he will give you your roles & responsibilities and you just need to go and play them out," India Today quoted Rahul as saying.
Dhoni has helped India win a number of trophies including 2007 World T20 and the 2015 ICC World Cup and Kohli is the way forward for the Indian team in Tests. Under the leadership of Kohli, India has been taking rapid strides, winning Test series against South Africa, Sri Lanka and West Indies with style.
"When it comes to Virat he is more energetic & has more passion. He wants the boys to be in the face of the players (opposition), be aggressive on the field and express themselves. We enjoy playing with both of them as leaders and both of them set great examples for rest of the boys in the team. They are great leaders and the team is in safe hands with both of them as leaders," Rahul said.
Under both the captains, Rahul is creating quite an impression.
In the recently concluded Test and the T20 series against West Indies, Rahul produced an impressive show in both the format. He played an important role with the bat in the first Test, scoring a wonderful ton to help India emerge victorious, while he was at his menacing best in the first T20 with a knock of 110 runs, but could not help cross the finishing line.