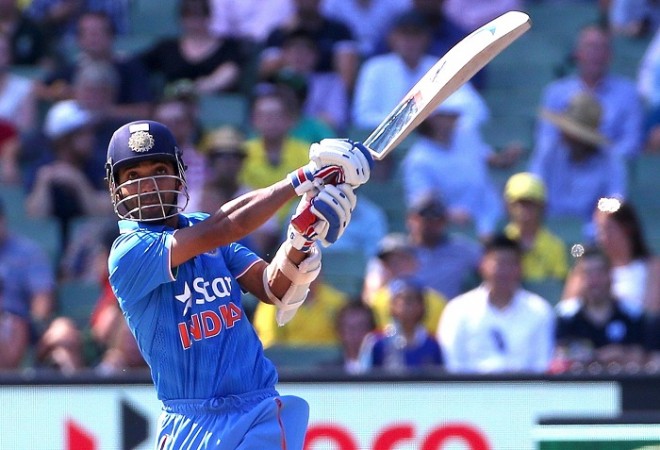 Ajinkya Rahane has been a consistent cricketer for India in the longer format of the game with an average above 50. But his average of 33.13 in the ODIs reflects his inconsistency in coloured uniform. To be fair, the batsman does not have a fixed batting position as he has batted as an opener and in the middle order as well.
He might be primarily batting as an opener in the current series, but he could be move down the order once KL Rahul or Shikhar Dhawan gets fit, and gets back into the team. In the current series against New Zealand, he has got starts, but failed to convert that into good scores. The right-hander is quite confident of his batting, and believes that big innings is not too far away.
"I think I can be more consistent. I am batting well. I have been getting starts and batting with rhythm. I think it is a matter of just one good inning and I believe that inning is not too far away. I have belief in my abilities. I have batted well in the last 2-3 series and scored runs," BCCI's official website quoted Rahane as saying.
"Now that I am batting as an opener, my role is to build a foundation for the team and build a partnership. If I am opening, I would like to be a match-winner going forward."
Rahane, as one has seen, depends on his timing to hit those elegant boundaries, has always been a joy to watch. The India batsman may not hit those massive sixes like that of MS Dhoni or Rohit Sharma, but believes Rahane feels it is important to be strong from inside as well.
"We spend time on power training. If you look at me, you may feel I don't have power, but as a kid, I have practiced karate. For a batsman, the core needs to be strong and power and stability helps you in that. You need not look strong, but you need to be strong," Rahane said.
With the third ODI between India and New Zealand set to be played on Sunday, Rahane will hope to play an important role in the top order and help the home team take 2-1 lead in the best of five ODI series.