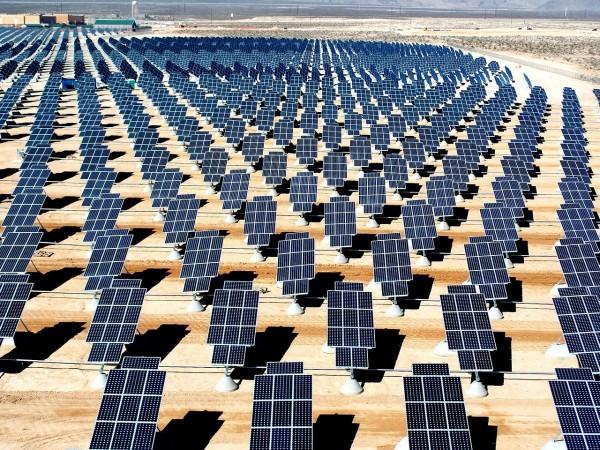 India is all set to become the world's third-largest solar power market by the end of 2017 by bypassing Japan, even as tarrif of electricity generated from the source has dropped to as low as Rs3.15 — about 5 cents or $0.05 — per unit, as per a bid submitted for a recent solar power project. Scientists have already predicted that solar power is becoming the cheapest source of energy in the world, and this development reaffirms it.
Also read: India: Wind power tariff falls to record low at first-ever, rate-based auction
The trends are especially heartening on both the domestic and international fronts for India. Domestically, India will be able to fulfil the power needs of more of its residents without the need to import or produce more fossil fuels — primarily coal — while internationally it will be the cynosure for the tehnology that has brought down the power tariff to such lows.
'Third-largest market'
In a bid to become more independent when it comes to satisfying its people's electricity needs, India has been taking giant leaps when it comes to increasing its capacity to generate power from renewable sources of energy: Its installed capacity nearly doubled from 6.76 GigaWatts (GW) by the end of March 2016 to 12.28 GW by the beginning of April 2017.
Now, the latest Gold Member Solar Report by EnergyTrend, which is a division of TrendForce, has said that India may overtake Japan by the end of this year and become the third largest market of solar power in the world. EnergyTrend analyst Celeste Tsai has been quoted as saying: "Because India still maintains strong demand for PV [photovoltaic] products, it has the potential to overtake Japan to become the world's third-largest solar market by taking at least 14 percent of the year's total PV demand."
Ever-falling tariff rates
As for the price of production of solar power in the country, it is a French firm that seems to be creating history. Solairedirect, which had in December 2011 won the rights to build a 5-MW solar power plant and supply energy at Rs 7.49 per unit, has now won to rights to build a 250-MW plant and supply power to the National Thermal Power Corporation (NTPC) Limited at Rs 3.15 — or just about $0.05 — per unit.
With solar power becoming cheaper by the year, it — combined with the rise of other non-conventional sources of power, like wind or nuclear energy — should help India drastically cut down its fossil fuel consumption, reducing not only its import bill but its carbon footprint as well!
Domestic and global impact
India, as one of the fastest-growing economies in the world, and while it needs electricity to power this growth, it cannot continue to rely on fossil fuels, not only because it inflates the country's import bill but also because it adds to India's carbon footprint.
With growing solar demand and falling prices, India can now provide more and cheaper power to its people. After all, India's power demand fell short by 2.15 percent in the fiscal year 2015-16 despite producing 1,090.851 billion KWh (or billion units). Cheaper and more solar power means that shortfall can be closed.
Globally, India stands in the third place among countries — fourth if one includes the European Union and considers all of them entities — when it comes to carbon emissions: It was responsible for 6.81 percent of all carbon dioxide or CO2 emissions in the world in 2015, emitting 1.9 tons of the gas per capita. More reliance on solar power will mean India will be able to cut down drastically on its global carbon footprint — thereby improving the global environment in times of global warming and climate change — without compromising on progress.