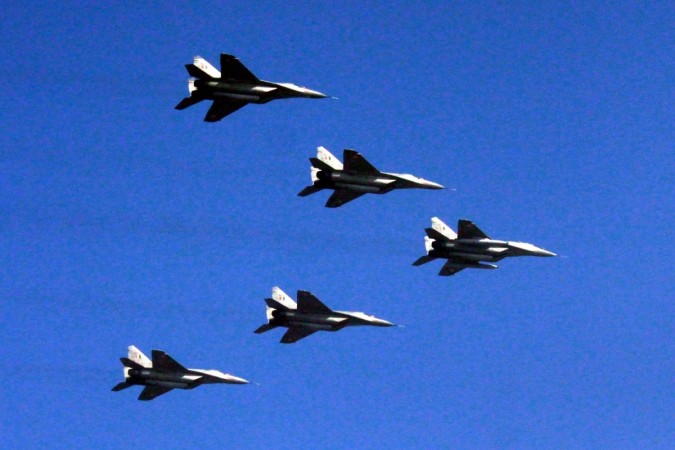 The Indian Air Force's chief-to-be, Air Marshal BS Dhanoa, said Thursday India did not have enough warplanes to take on joint forces of China and Pakistan. His statement comes on the same day as the United States Senate defeated a move to block the sale of F-16 fighter jets to Islamabad. The U.S. Senate voted 71 to 24 Thursday against a resolution to block the $700 million sale of the Lockheed Martin fighter jets.
The Senate vote, thus cleared the way for the sale of the F-16 fighter jets to Pakistan despite concerns raised by India as well as several U.S. lawmakers. Last month, U.S. Senator Rand Paul had introduced a resolution of disapproval to halt the arms sales to Pakistan, while another Senator, John McCain, chairman of the Senate Armed Services Committee, had called for a hearing on the deal.
The Indian Air Force official admitted the F-16 fighter jets will "make a difference," while also revealing the force lacks enough warplanes to fight China and Pakistan together. The IAF's fighter squadrons currently number at 33, much lower than the required 42 to ward off a joint threat.
"Our numbers are not adequate to fully execute an air campaign in a two-front scenario," IAF vice-chief Dhanoa, who is slated to take the top post in December, said, according to the Times of India. "The F-16s do make a difference, make our lives more difficult. But they do not significantly alter the air power edge we have," he said.
The U.S. deal will push the number of F-16 fighter jets with Pakistan to over 80, and the jets can overshadow India's Sukhoi-30MKI fighters 1:2, according to TOI. India is also waiting for the Rafale fighter jet deal with France, which is stuck due to issues of pricing, to fructify in order to enhance the Indian Air Force's strength.
The IAF vice-chief's comments come days ahead of the "Iron Fist" firepower demonstration exercise to be held at Pokhran March 18, in which 181 aircraft will display their combat capability in the Thar desert in Rajasthan.