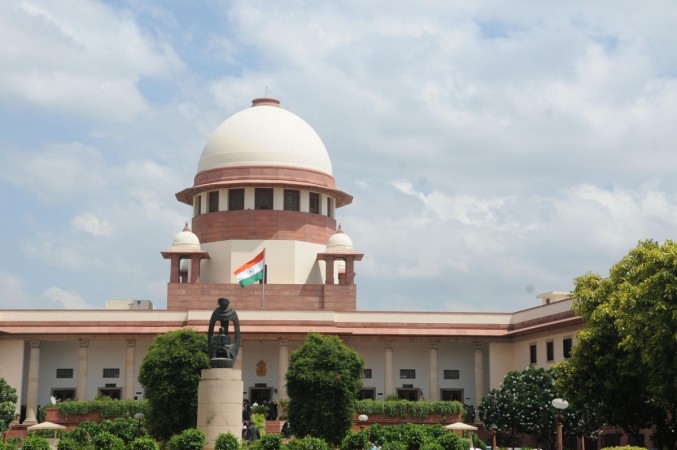 After the Supreme Court on Friday directed the Centre to respond if the country should be called 'Bharat', based on a petition that the term 'India' was coined by the British, Twitterati took the matter in their hands.
A PIL filed by Niranjan Bhatwal, social activist from Maharashtra claimed that there has been no historical evidence that the subcontinent was called 'India' before the British arrived, and that the Constituent Assembly under Babasaheb Ambedkar had also envisaged 'Bharat'.
The petition also suggested alternative names to be used officialy, such as 'Bharat, Hindustan, Hind and Bharatbhumi'.
A Supreme Court bench comprising Chief Justice H L Dattu and Justice Arun Mishra issued notices to the central and all state governments, as well as union territories, to respond to the petition.
The ruling BJP party is known to often use the term' Bharat' to refer to India during its meetings and sessions, the latest such case being the recent party conclave in Bengaluru.
A similar plea was brought before the Supreme Court last year, but the apex court dismissed it and asked the petitioner to first approach the concerned authorities.
The issue has understandably became a Twitter trend in the country, with netizens sharing their opinions and thoughts on what the country should be called.
Here are some interesting reactions:
Twitterati who prefer 'Hindustan'/'Bharat':
Although it's a very stupid question but between India or Bharat I would prefer Bharat.

— mayank (@itsMayankSharma) April 25, 2015
"@ani30oct: @deepika_one Bharat वंदे मातरम्" India or Bharat Always "Bharat" — deepika sen (@deepika_one) April 25, 2015
India or Bharat ...?? Its Always Hindustan Or BharatVarsh .....I Request Govt To Consider Change.

— Gaurav Kumar Nilay (@Gkr_nilay) April 25, 2015
India or Bharat ? Its Bharat any day . — Happy Bday AlPacino (@sovereign_AK) April 25, 2015
India or Bharat ??? I prefer Hindustan..

— satya (@satyaticks) April 25, 2015
Twitterati who want to stick to 'India':
India is definitely better. Bharat is like a one sided name! India or Bharat — ameer muhammed (@ImAmeer12) April 25, 2015
"India or Bharat" - India, coz it goes well while cheering India - India in the cricket stadium.

— Rajan Lodha (@RajanLodha) April 25, 2015
'Bharat' smacks of an abridged history of Brahminical conquest, leaving aside Muslims & Christians or its native Dalits. India or Bharat — AtheistClub (@Atheist_Club) April 25, 2015
India or Bharat? Definitely India. Its way cooler.

— Bhargav (@NimokhJolokia) April 25, 2015
Those who think the debate is a non-issue:
India or Bharat ? I don't care as long as my country stays Socialist, Secular and United. — Zachary Borthwick (@ZacharyBorthwic) April 25, 2015
Yaha desh ka anndata mar raha hae aur waha india or bharat pur debate ho raha hae..whr is the damn democracy whch is 'for the ppl'

— Kajal Pradhan (@BabluKiSuseela) April 25, 2015
India or Bharat? I see a lot of ego and no logic in this question! if change happens, will make us look regressive to the outside world! — Ashwin Naik (@mufc_ash) April 25, 2015
India or Bharat dosent make difference unless People who grow food, gets food to eat Families of those are guarded, who guard our nation

— Dharmesh (@dharmeshjhaveri) April 25, 2015