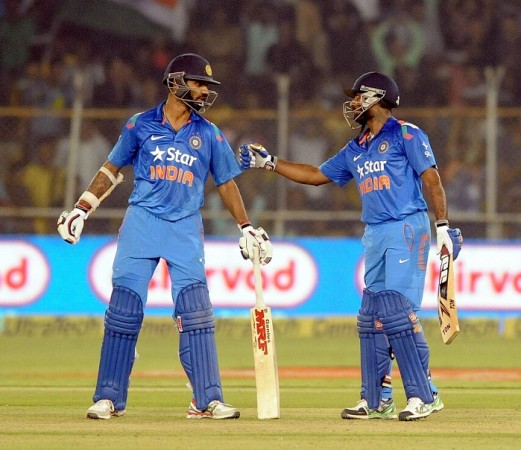 MS Dhoni will be back at the helm when India return to ODI cricket, and that familiarity will hopefully turn into positive results after an encouraging, but difficult, Test match series against Australia.
India will look to the tri-series against Australia and England as the perfect preparation for their World Cup title hopes, and the "Men in Blue" will look to get in as much practice as possible from the upcoming four-five matches.
The selectors have called up two extra seamers in Dhawal Kulkarni and Mohit Sharma to ensure the fast bowlers in the World Cup squad – Bhuvneshwar Kumar, Mohammed Shami, Umesh Yadav and Ishant Sharma – are as fresh as possible heading into the World Cup title defence.
India's batting squad is packed with power and finesse, while there is room for a spinning all-rounder as well as a pace bowling all-rounder.
Some of the players who are not expected to be a shoo-in to the playing XI for the World Cup (read Stuart Binny, Akshar Patel and Ambati Rayudu) will look to make an impact in this tri-series, while the likes of Shikhar Dhawan, Rohit Sharma and Suresh Raina, who were all left with plenty to think about after the Test series against Australia, will look to find their mojo again.
The hosts Australia have plenty of injury worries going into this tri-series, and hence a few of the players who will play in the World Cup will be either rested or will only play towards the latter part of the series.
Mitchell Marsh is unlikely to bowl for much of the tri-series after picking up a hamstring injury which kept him sidelined for the last two Test matches, while Mitchell Johnson, so vital to Australia's fortunes, missed the final Test in Sydney with a slight hamstring problem.
Gurinder Sandhu, a fast bowler of Indian origin, and Kane Richardson have been called up as cover for the tri-series to reduce the "workloads" of the World Cup-going fast bowlers.
"Given the heavy workloads undertaken by Mitchell Starc and Josh Hazlewood during the fourth Test, and the hamstring problems recently suffered by Mitchell Johnson and Mitchell Marsh, the selectors have named South Australia's Kane Richardson and New South Wales seamer Gurinder Sandhu as extra bowling options for the early matches of the tri-Series," Cricket Australia said in a statement.
Michael Clarke will not take part in this series as he continues his rehabilitation from a back injury, meaning the skipper's hat will be donned by George Bailey. Steven Smith was also in the frame for the role after taking to Test captaincy like duck to water, but the selectors went with the man who has skippered Australia in ODIs before.
"He's going to lead this side throughout this tri-series and the World Cup and I'll be doing everything I can to support him," Smith, giving his backing to Bailey, told Sky Sports Radio. "We've got a great squad together.
"Hopefully we can play well this tri-series, get some momentum gained before the Wold Cup and then come out and hopefully be a force to be reckoned with."
While there are a few chinks to be ironed out in the Australia squad, plenty more remain with England, who have a new captain of their own after Alastair Cook was dropped from the World Cup squad.
Eoin Morgan is the new man at the helm, but more interestingly it will be Ian Bell who partners Moeen Ali at the top of the batting order. If performances in England's two arm-up matches are anything to go by, then that could be a match made in heaven.
"I think it was good first time out [with Bell]," said Ali when asked about the change in opening partners. "I felt we complemented each other really well so it was nice.
"I wouldn't say it's difficult to change partners. I just go and play how I need to play on that particular day."
Plenty to play for all three teams in this tri-series and a victory could very well be the confidence booster needed to go to the World Cup and make it all the way to the final.
Squads: India: MS Dhoni (capt), Virat Kohli, Shikhar Dhawan, Rohit Sharma, Ajinkya Rahane, Suresh Raina, Ambati Rayudu, Ravindra Jadeja, Akshar Patel, Stuart Binny, R Ashwin, Ishant Sharma, Bhuvneshwar Kumar, Mohammed Shami, Umesh Yadav, Dhawal Kulkarni, Mohit Sharma.
Australia: George Bailey (capt), David Warner, Aaron Finch, Shane Watson, Steven Smith, Glenn Maxwell, James Faulkner, Mitchell Marsh, Brad Haddin, Xavier Doherty, Pat Cummins, Mitchell Johnson, Josh Hazlewood, Mitchell Starc, Kane Richardson, Gurinder Sandhu.
England: Eoin Morgan (capt), Moeen Ali, Ian Bell, Joe Root, James Taylor, Gary Ballance, Alex Hales, Ravi Bopara, Jos Buttler, Chris Woakes, Chris Jordan, James Anderson, Stuart Broad, Steven Finn, James Tredwell.