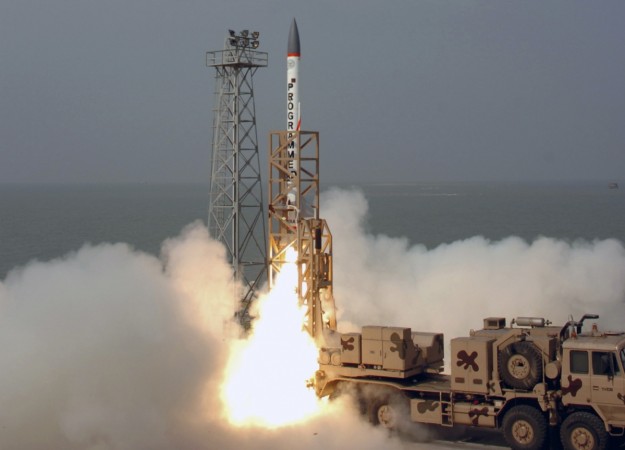 An indigenously developed supersonic interceptor missile, part of India's multi-layered Ballistic Missile Defence system, is said to have been successfully test-fired from a test range along the Odisha coast on May 15.
"The test conducted to validate various parameters of the interceptor in flight mode has been successful," PTI quoted Defence Research Development Organisation (DRDO) sources as saying.
The interceptor missile was tasked to "kill" an incoming naval version of the Prithvi missile, which was launched from a ship. Following the signals from the tracking radars, the interceptor, an Advanced Air Defence (AAD) missile, lifted off to destroy the "enemy" missile mid-air, sources said.
"The 'kill' effect of the interceptor was ascertained by analysing data from multiple tracking sources," PTI quoted a scientist from DRDO as saying.
The interceptor missile reportedly has its own mobile launcher, which allows it to be fired from anywhere, without the need of a physical launch pad. The missile, DRDO sources were quoted as saying by PTI, has its own secure data link for interception, independent tracking and homing capabilities and sophisticated radars.
The missile is 7.5 metre in length. It is said to be a single-stage solid rocket-propelled guided missile that comes equipped with a navigation system, a hi-tech computer and an electro-mechanical activator.
Meanwhile, Pakistan has "expressed concern" over India testing the supersonic interceptor missile, Radio Pakistan quoted Sartaj Aziz, Adviser to Pakistani Prime Minister Nawaz Sharif on Foreign Affairs, as saying in a statement. He has also spoken about taking up the matter at an international level.
Moreover, such a missile test disturbs the regional balance of power, he said. He further warned that Pakistan would continue to upgrade its defensive capabilities and would "definitely acquire" advanced technology to boost its defences.
Meanwhile, there have been reports that India was looking to acquire five units (from original 12 units) of the famed Russian air defence system, S-400. The S-400 can neutralise modern and advanced missile targets at a distance of up to 400 km.