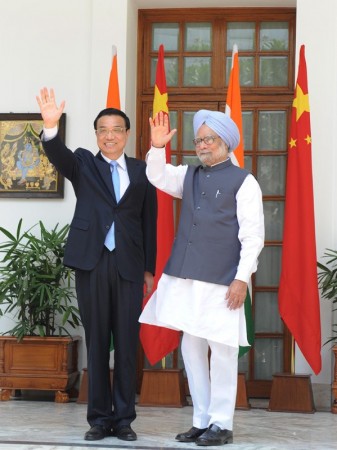 China and India are back to bickering over their longstanding territorial disputes - this time due to a few offending strokes on a China map, printed on its revised passports, that show Beijing staking its claim on the regions of contention between the two nations.
An outline of China printed in the upper-left corner of the newly issued passports includes regions of India-China border dispute - Arunachal Pradesh and Aksai Chin in Jammu and Kashmir (J&K).
Apart from the two Himalayan regions, the map has China expanding its territories to include Taiwan and the whole of the South China Sea, parts of which are claimed by the Philippines, Vietnam, Taiwan, Brunei and Malaysia.
Though these contested regions have long been included in China's official maps, the move to put them in its passports is seen as an act of provocation since it would leave other nations with no choice but to endorse the border claims by affixing their official stamps to the documents.
"We are not prepared to accept it," India's Foreign Minister Salman Khurshid said Friday, the Times of India reported. "We, therefore, ensure that our flags of disagreement are put out immediately when something happens. We can do it in an agreeable way or you can do it in a disagreeable way," he added.
In response, the Indian government has decided to stamp its own map on the visas it issues to the holders of the new Chinese passports containing the offending map, sources with knowledge of the dispute told Reuters.
There have been earlier instances when China stapled visas into the passports of residents of J&K, terming it as a "disputed territory," and denied visas to those hailing from Arunachal Pradesh.
China's Foreign Ministry defended the map on its passports, which were being issued since May 15, saying it was not directed against any particular country.
"The design of this type of passports is not directed against any particular country," Chinese Foreign Ministry spokeswoman Hua Chunying said at a daily media briefing Friday, the AP reported. "We hope the relevant countries can calmly treat it with rationality and restraint so that the normal visits by the Chinese and foreigners will not be unnecessarily interfered with."
The Economist, in a September report, had accused India of being "more intolerant" than "either China or Pakistan" on the issue of disputed territorial claims, to warn its Indian readers that they might be "deprived" of a map it carries to illustrate the claims.
"Sadly India censors maps that show the current effective border, insisting instead that only its full territorial claims be shown. It is more intolerant on this issue than either China or Pakistan. Indian readers will probably be deprived of the map on the second page of this special report," the Economist had said.