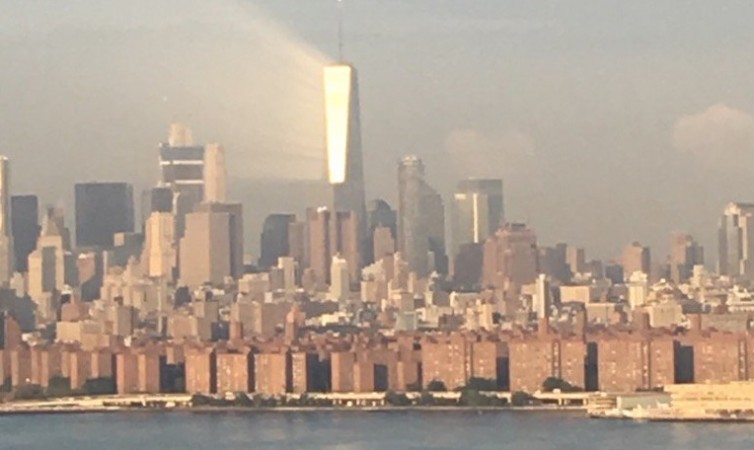 Just before the 15th anniversary of the attack on the Twin Towers, a man took a photo of One World Trade Center with an unusual beam of light. Ben Sturner, a self-professed amateur photographer, took the photo on Thursday from Long Island City in Queens.
Sturner said that he looks at the World Trade Center every day but has not seen anything like this. He posted the photo on Twitter and said, "As the 15th anniversary of #9/11 approaches, an incredible ray of sunlight beams off Freedom Tower this AM."
Sturner, who clicked the photo at around 7.11 a.m. on Thursday, said that the light was there for almost 10 minutes. Initially, he was unsure of uploading the picture the social media, but he posted it on his Twitter handle hours later. Sturner told ABC 7 that the photos are not photoshopped.
Interestingly, Sturner captured a rare event last year on Thursday before Sept. 11. He had captured a rainbow near the World Trade Center a day before the 14th anniversary of the Twin Tower attacks.
Sturner was in the same place and at almost the same time last year. He took the photo of the rainbow at around 7:57 a.m. on Thursday 2014, a day before Sept. 11. The rainbow photo went viral and shared by millions on social media.
"Photos were taken on the same Thursday before #9-11 one year apart. A ray of light shining on One World Trade Center," he tweeted.
When asked about being the one to capture both the events, he told ABC 7, "It's just a matter of being in the right place at the right time."