Pakistan Tehreek-e-Insaf (PTI) chief Imran Khan took oath as the 22nd prime minister of the nation on Saturday (August 18). The swearing-in ceremony was held at the President House in Islamabad.
Live Updates
Visuals from the ceremony
Imran Khan fumbled during his oath taking speech
Visuals from the ceremony
Imran Khan takes oath as Pak PM
Imran Khan has taken oath as the 22nd Prime Minister of Pakistan.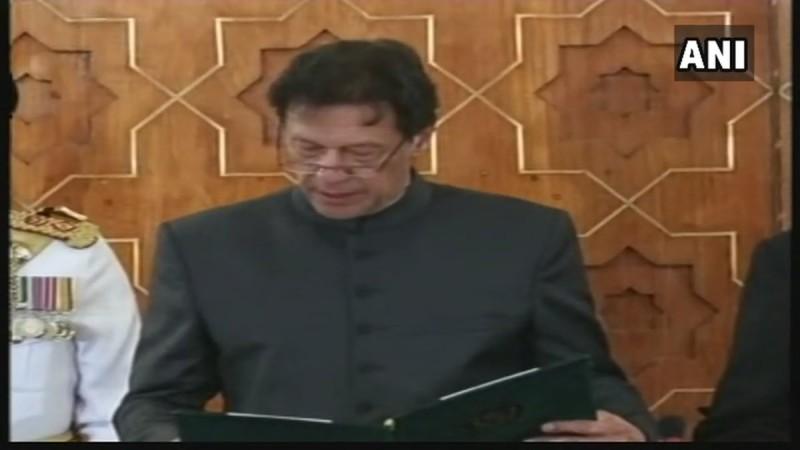 Imran Khan's wife Bushra Maneka present at oath-taking ceremony
Imran Khan's third wife, Maneka with whom he tied the knot in a simple ceremony held at the latter's brother's home in Lahore on February 18 is also present at the ceremony.
Navjot Singh on Imran Khan's swearing-in
Navjot Singh Sidhu, who reached Pakistan on Friday (August 17), said that he has gone to the neighbouring country "as a friend".
"These moments of democratic change in Pakistan are very important. I feel lucky that Imran Khan, being a friend, invited me. It is an honour for me. I am going to Pakistan as a goodwill ambassador. I am going there with the hope that relations between our two nations will improve," ANI quoted Sidhu as saying at the Attari-Wagah border.
Guests start arriving at President House
A few guests like Navjot Singh Sidhu, former Pakistani cricketer Wasim Akram and Pakistani actor and director Javed Sheikh have already arrived at the President House.
Even Punjab governor designate Chaudhry Sarwar and Ramiz Raja, have reached the venue for the ceremony.
Aamir Khan had said he will not attend Imran Khan swearing-in
Imran Khan had also reportedly invited Bollywood actor Aamir Khan.
However, the Bollywood actor Aamir Khan on August 2 said that he is not going Pakistan to attend the swearing-in ceremony of cricketer-turned-politician Imran Khan. He also clarified that he has not been invited to the Pakistan Prime Minister's swearing in ceremony.
I am not going to Pakistan. Haven't received an invitation for Imran Khan's swearing in," the actor told News 18. He also added that in case he received an invitation, he won't be able to make it as he is "too busy to go".
Imran Khan invites former Indian cricketers
The prime minister-elect of the country has reportedlty invited former Indian captains Sunil Gavaskar, Kapil Dev and cricketer-turned politician Navjot Singh Sidhu for his swearing-in ceremony.
Punjab Cabinet Minister Navjot Singh Sidhu, who had accepted Imran's invitation to the oath taking ceremony, said on August 17 that he is going to Pakistan as a "goodwill ambassador"
"It is (a) great honour, I accept the invitation. Men of genius are admired, men of power are feared, but men of character are trusted. Khan Sahab is a man of character. He can be trusted. Sportsmen build bridges, break barriers, unite people," Sidhu, a former cricketer had said in a statement, on August 2.
"He has risen from scratch in politics, he has exhibited great character. I see him as a ray of hope. Its a huge honour for me. Its a personal invitation( for Imran Khan's swearing in) from him and not a political one," Sidhu told ANI
PTI emerged as the single largest party

The 15th general elections of Pakistan was held on July 25 and the results were declared the next day. The cricketer-turned-politician's party emerged as the single largest party, which secured 116 seats while Shehbaz Sharif of Pakistan Muslim League (Nawaz) and Bilawal Bhutto Zardari of Pakistan People's Party (PPP) won in 64 and 43 constituencies respectively.
Oath ceremony timings
The swearing-in ceremony will be held at 9:30 AM in Islamabad and President Mamnoon Hussain will administer the oath to Imran Khan.