The Pakistan Tehreek-e-Insaf (PTI), which emerged as the single largest party but short of simple majority in the National Assembly elections, was yet to seek formal support from smaller parties or Independents to form the next government.
Earlier, the party leaders had maintained that they will not need the support of any other party, the final preliminary results issued by the Election Commission of Pakistan on Saturday showed that the party was short of 22 seats to form the government on its own.
On the other hand, two other major parties, the Pakistan Peoples Party (PPP) and the Pakistan Muslim League-Nawaz (PML-N), are expected to meet in a couple of days to devise a joint strategy in a bid to give a tough time to the PTI in parliament, Dawn reported.
According to various TV reports, senior PPP leader Syed Khursheed Shah will meet PML-N President Shahbaz Sharif in Islamabad on Sunday.
When contacted, the PTI's Shafqat Mehmood claimed that no formal meeting had taken place at Imran Khan's residence and that they (PTI leaders) had a general discussion on the challenges the party could face after formation of the government, but no names of federal ministers or chief ministers were discussed.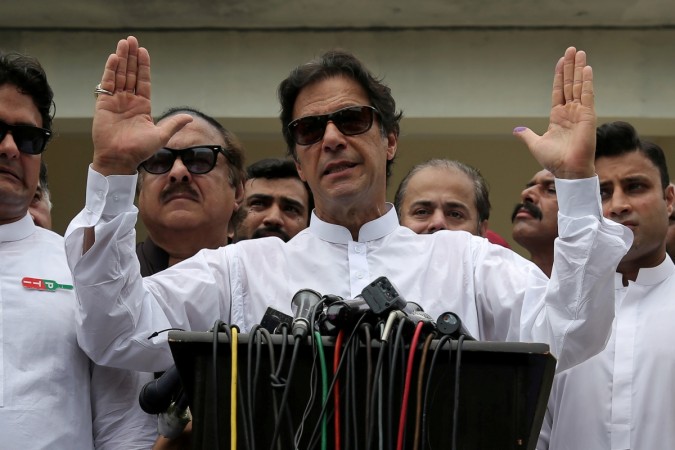 According to the complete preliminary results announced by the ECP, the PTI has obtained 115 seats - 22 short of a simple majority -- while the PML-N and PPP have won 64 and 43 seats, respectively.
The PTI leaders who have won more than one seat will have to vacate additional seats as the law allows an individual to retain only one seat. The Prime Minister-in-waiting Imran Khan has won five seats and he will have to vacate four.
Former Khyber-Pakhtunkhwa Chief Minister Pervez Khattak has won both National Assembly and provincial assembly seats. If the PTI decides to nominate him again for the previous office, he will also have to vacate the NA seat which means that the party's seats will be reduced to 109.
It was after these calculations that the PTI leadership has now decided to reach out to other smaller groups and independents since the party has already declared that it will not join hands with the PPP and the PML-N.
It was also reported by various outlets that PTI leader had established contacts with independents and the Muttahida Qaumi Movement-Pakistan (MQM-P) which has won six seats. There are 13 independents who emerged winners in July 25 polls.
The sources said Khan had himself contacted Mumtaz Bhutto of the Grand Democratic Alliance (GDA) to formally invite the alliance to join the coalition government.
If the PTI obtains the support of the GDA, MQM-P, PML-Q and the Awami Muslim League, the number of its seats will become 122 - still 15 short of the required numbers, which is more than the independents who have won the elections.