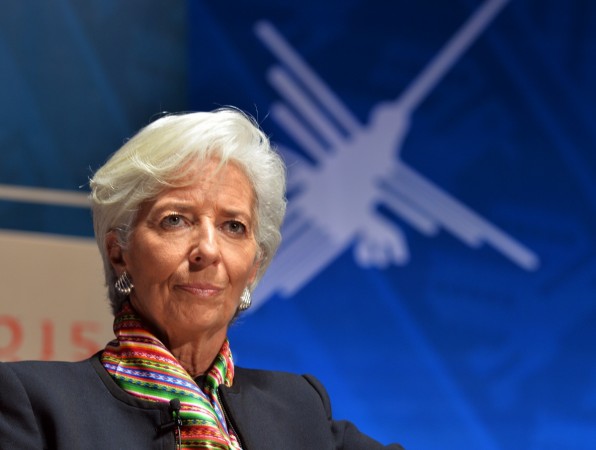 At the end of the three-day Advancing Asia Conference in New Delhi on March 13, International Monetary Fund (IMF) chief Christine Lagarde said "better representation of large emerging nations in the multi-lateral institution has transformed it from 'my IMF to our IMF'," the Press Trust of India reported.
Earlier dominated by the developed countries, the multilateral institute's governance architecture is touted to accommodate emerging market economies better after the Jan. 26 quota reforms.
The reforms have given more voting powers to emerging nations. India's quota in IMF rose to 2.7 from 2.44 percent and its voting share increased to 2.6 from 2.34 percent. China's voting share rose to 6 percent from 3.8.
The funding agency has also included Chinese currency Renminbi in the Special Drawing Rights (SDR) basket along with four other global currencies. According to IMF, SDRs are an international reserve asset to supplement its member countries' official money reserves.
"Renminbi is embedded in the new basket of currency that determines the value of SDR, along with four other currencies, and it is making the IMF 'our institution' from 'my institution'," she was quoted as saying by PTI.
Lagarde added that Asian economies led by India will be a major growth driver in the years to come. And the large emerging market economies are now in the top 10 list of members, including India, reported the news agency.
For the first time, four emerging market countries of the BRIC (Brazil, China, India, and Russia) bloc will be among the 10 largest members of IMF. Other top 10 members include the U.S., Japan, and the four largest European countries: France, Germany, Italy and the U.K.
Unconventional Monetary Policy
In a related discussion, the conference also focused on unconventional monetary policy adopted by advanced countries to push growth in their country.
Lagarde was reported as saying that in the interconnectedness of the global economies, the relationship is sometimes fruitful and sometimes full of hazards between advanced and emerging market economies. The economies, through its monetary policies, need to help each other.
"Clearly there has been a lot of talk about spillover, spillbacks, impact of monetary policy decision made elsewhere, and the volatility induced asset price modification. All of that have been taken into account by us as an institution in the three dimension that we operate in order to be extremely relevant and tailored to the needs of members," PTI quoted the IMF chief as saying.
"We need to adopt and adjust our approach both in terms of lending and capacity building to specific needs of the region. Countries are very interconnected together and exposed to decision made outside their jurisdictions."
Asian Multilateral Institutions
Lagarde in another PTI report had welcomed BRICS Bank and the Asian Infrastructure Investment Bank (AIIB), saying this was needed for the region and its investment requirements.
"The IMF is a different animal. We are in the business of helping countries in disarray when there is a significant balance of payments issues, when a country is unable to finance or refinance itself, then we are called upon helping," she said. "We don't finance projects. However, we provide a light of technical assistance to encourage projects that are well managed."
PTI reported her as saying that it would be better for the multilateral institutions to work together.