Bengaluru-based I Monetary Advisory Pvt Ltd, popularly referred to as IMA, made quite a name for itself by offering attractive investment solutions. The investment firm, operating mainly in Bengaluru, is facing the heat from the Karnataka government, which has issued a public notice to forfeit all movable and immovable properties.
The Karnataka government's notice, published in Times of India (Bengaluru edition), states IMA is found guilty of illegally collecting money from public and diverting funds to its directors and defaulting on repayments. The government is charging IMA under Section 5 of the Karnataka Protection of Interest of Depositors in Financial Establishment Ac, 2004, to "forfeit movable and immovable properties of IMA and its associates, promoters, partners, directors, managers of members of any other person of the company."
The assistant commissioner of Bengaluru, north-sub division, has been appointed as in-charge of all the operation. The notice has issued 16 names, including IMA, its managing director and chief executive officer Mohammed Mansoor Khan, directors Nasir Hussain, Naveed Ahmed Nattamkar, Nizammuddin Azeemuddin, Afshan Tabassum, Afsar Pasha and Arshad Khan.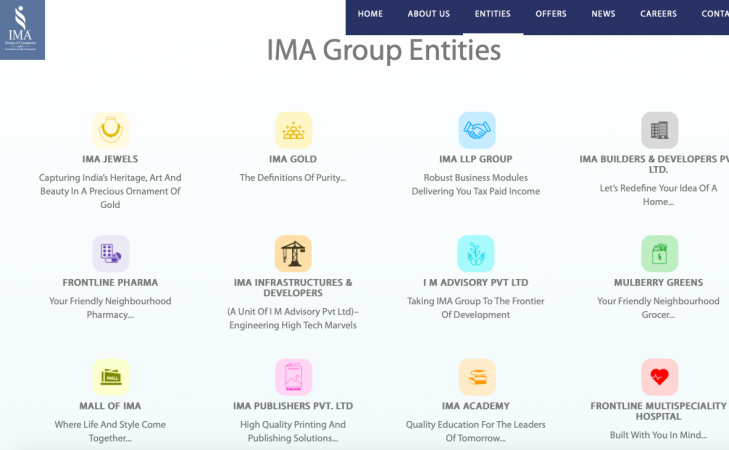 International Business Times, India, reached out to Mansoor Khan for a statement on the matter, to which the IMA director said an official statement will be released on Thursday by 6 p.m. But Mansoor Khan addressed the matter in a Facebook post, where it says the issued notice is nothing more than a fake case and all the properties remain intact.
"IMA Legal Team will take appropriate steps to set things right which has been deliberately done to sabotage the image of IMA Group. Moreover it has been reported to us by our partners that certain people in Govt. offices are forcing IMA members to file a false complaint against IMA Group, so they can make a fake case against IMA Group. By the mercy of Almighty IMA Group stands tall after all these unwarranted and cowardly acts of few people from within the community," Mansoor Khan wrote in the Facebook post.
Mansoor Khan also urged in his post to avoid spreading unverified information, which may unknowingly damage the values of our esteemed organisation."
Speaking to IMB, Mansoor Khan said the legal team is readying an effective petition and also planning to file a defamation suit against those who are trying to charge against the firm. As Mansoor Khan said assuring its investors that the company is even planning for an IPO as early as next financial year.
This is a developing story...