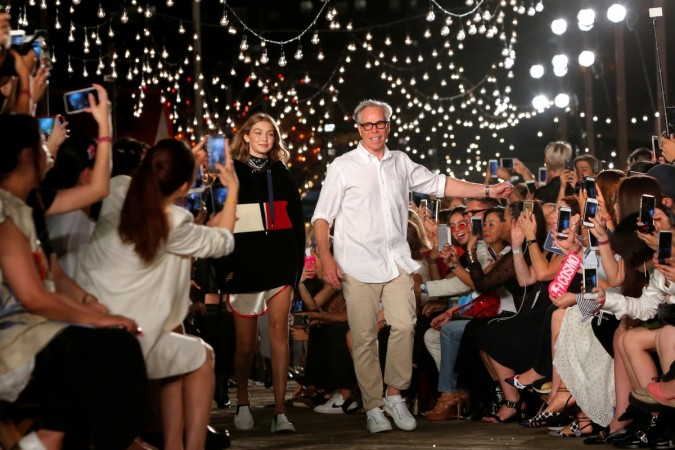 American designer Tommy Hilfiger, founder and principal designer of the high-end apparel company, finds his own style limited and boring.
When questioned by the media about his personal wardrobe and style, the 65-year-old designer said that he feels it's more of a uniform. "I'm pretty boring when it comes to clothes. I have 50 white shirts, 50 chinos, 50 pairs of jeans and 25 pairs of white sneakers. Some navy and grey suits and black and brown shoes," Hilfiger was quoted saying to a magazine by IANS.
Hilfiger also said that he felt alienated in school because he was dyslexic. At the age of 17, he says he began to fund his business by running his first shop from the boot of his car.
"I came to the conclusion when I was 17 that I should be in business," he said. "I drove five hours to New York City and I bought 20 pairs of bell-bottom jeans on the streets in the Village. I took them back to my school parking lot, sold them to my friends out of the trunk of my car, and with the profits, I opened my first shop and my business started taking off."
The Tommy Hilfiger brand, which offers a breadth of collections ranging from tailored clothing, sportswear, casual apparel, sportswear, denim, accessories, underwear and footwear, began operating in India through Tommy Hilfiger Arvind Fashion Pvt Ltd, a 50:50 joint venture between the US premium lifestyle brand and Ahmedabad-based textile company, Arvind Ltd. The unit's portfolio includes brands such as Calvin Klein, Tommy Hilfiger, US Polo Assn, Ed Hardy, Hanes, Arrow, Gant and Nautica.
Arvind Ltd posted consolidated revenue of Rs 8,581 crore for the financial year ending March 31 2016. The company recently divested 10 percent stake in its brand business arm to Renuka Ramnath-led private equity firm Multiples Private Equity. The value of the stake sale was pegged at Rs 740 crore.