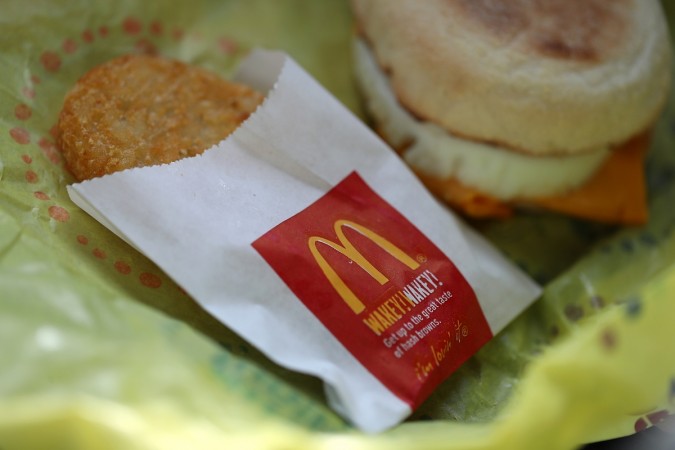 The snack with the cheesiest filling of the lot was brought back to the menu of fast-food chain McDonald's in the UK for a limited time. However, Mozzarella sticks at the Chaloner Street branch of McDonald's in Liverpool disappointed some diners. The cheesiest snack had no cheese filling which led to many social media users claiming that Maybe McD was just trying to be health conscious.
The fast-food giant has been serving the limited-edition snack since last week. However, Catherine Murphy, a fast-food lover, was left devastated after opening her box of three-pack mozzarella sticks which had no filling.
The 24-year-old went to the fast-food joint on February 18 only to walk out feeling disappointed as her lunch was ruined. Her cheesy dippers were simply hollow pieces of bread.
"I was devastated. I was really looking forward to them because they're my favorites and it was just hollow bread," she said.
This is not the first time that McDonald's has served their customers with hollow cheese bites. In 2016, a string of McDonald's stores had left their customers confused after serving mozzarella sticks sans the cheese filling.
Now, the fans of mozzarella sticks have taken to Twitter to express their outrage.
A Twitter user Courtney Wright wrote: "When you get mozzarella sticks but there is no cheese in them... lunch ruined."
Francesca Heavens wrote: "McDonald's what is this?!? My mozzarella stick had no cheese! How is that even possible?? Where is the cheese."
Another user wrote: "Craving mozzarella sticks. Excited that McDonald's has them! Just to get home to have hollow breading."
The McDonald's website says that these sticks are made with 100 percent "real and melty mozzarella cheese" and comes with a crunchy breaded crust made with wheat flour, onion, garlic and a pinch of salt. This snack is meant to be served with a "zesty tomato-based marinara sauce".
Mozzarella sticks were brought back on February 7 and are expected to be available only at the participating stores in the UK.