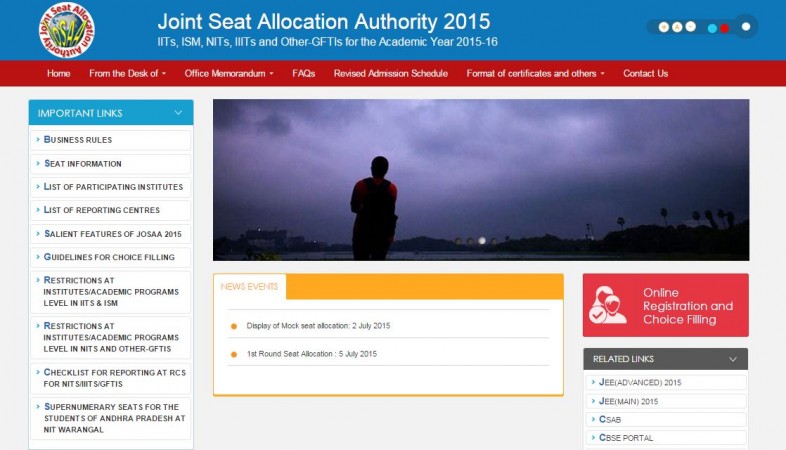 The wait for admission to IITs, NITs, IIITs, ISM and several other government funded technical institution is over now, as the CBSE announced IIT JEE (Main) 2015 All India Rank List for paper-1 and paper-2 at 12 noon on Wednesday.
The CBSE has prepared the rank list for JEE (Main) 2015, which is now available online on its official website. Students can check their JEE (Main) 2015 results by entering roll number and date of birth.
The AIR of JEE (Main) 2015 has been declared by CBSE and the data CD has been handed over to CSAB 2015 (NIT Patna) for counselling purpose. The candidates may see their result on the websites, Joint Entrance Examination (Main) and Central Board of Secondary Education after 12.00 Noon, the CBSE said in a statement released late on Tuesday night.
NIT Patna will facilitate the seat allotment process to the IIT JEE (Main) for the academic year 2015-16.
The Joint Seat Allocation (JoSA) activities for admission to technical universities will begin two to three hours after the rank list is available online for students to check. The IIT has also released the final revised schedule for counselling.
Online registration and filling-in of choices will begin on 1 July and end on 5 July, followed by mock seat allocation on 6 July. Round one of seat allocation and acceptance will begin on 7 and 8 July respectively.
Seat allocation for NITs will begin from the fourth round, i.e. on 22 July and seat acceptance for the same will take place between 23 to 26 July. While the academic session for NITs will begin on 28 July, the academic session for the IITs will start from 22 July.
Over 11 lakh students are eligible for counselling to 85 technical institutes, including 18 IITs and 31 NITs, across India, PTI reports.
The schedule for JoSA activities had to be revised twice before publishing the final dates for counselling. The delay was caused because the CBSE failed to announce JEE (Main) 2015 rank list.
"The announcement of the all-India ranks were delayed due to failure of six-seven school board to furnish the particulars and weightage of the individual students. Although they were asked to submit the details by June 25, they could not do so which led to the delay in releasing the ranking list," PTI quoted CBSE officials as saying on 30 June.