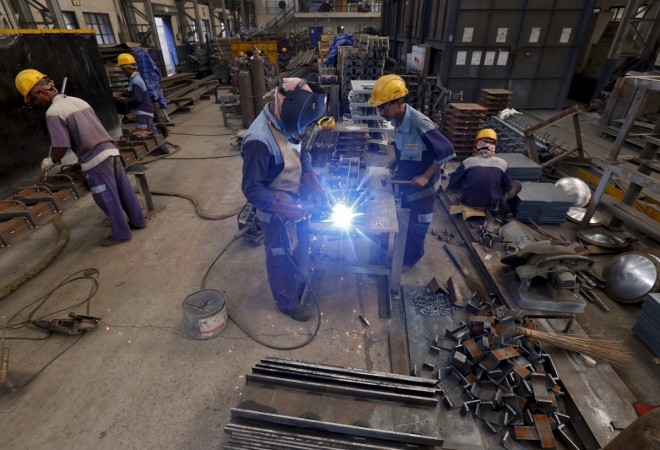 After registering a decline for the first time in 13 months in November last year, industrial output contracted in December, reaffirming an earlier statistic that manufacturing activity hit a 28-month low during the month.
The index of industrial production (IIP) was in negative zone, shrinking 1.3 percent in December 2015, after contracting by 3.2 percent in November last year. It had climbed 9.8 percent in October and 3.6 percent in September.
The nine-month cumulative data showed a decline at 3.1 percent when compared to 3.9 percent for the eight-month period (April to November) and 4.8 percent during April to October.
"The cumulative growth for the period April-December 2015 over the corresponding period of the previous year stands at 3.1 percent," said the quick estimate released by the government on Friday.
The fall was widespread, with 10 out of the 22 industry groups in the manufacturing sector registering a decline in December 2015. The overall decline in the manufacturing sector was 2.4 percent.
The worst performer was industry group "electrical machinery and apparatus" that shrank 44.9 percent, followed by "publishing, printing and reproduction of recorded media" at 10.7 percent.
The sectors that bucked the trend were mining that grew at 2.9 percent and electricity that posted a growth of 3.2 percent.
In a related development, retail inflation rose to a 17-month high of 5.69 percent in January this year, but remained within the 6 percent target set for the month by the Reserve Bank of India (RBI).
Retail inflation had climbed to 5.61 percent in December 2015, after hitting a 14-month high of 5.41% in November 2015.
The increase was primarily on account of rising food prices as measured by the consumer food price index (CFPI) that increased by 6.85 percent in January 2016, as against 6.40 percent in the preceding month, according to the data released along with IIP figures.
These are the last set of retail inflation and IIP figures before the presentation of the Union Budget for 2016-2017 by Finance Minister Arun Jaitley on Feb.29, 2016.