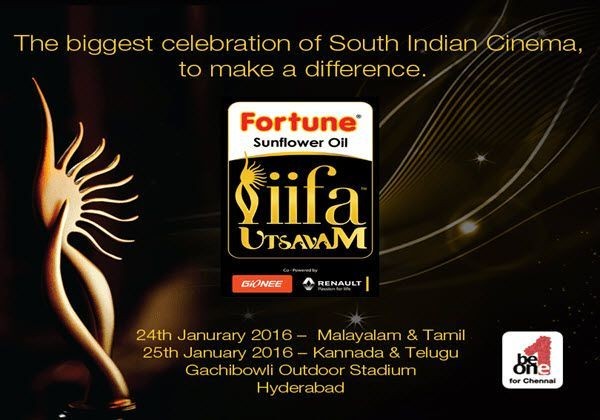 The first edition of the International Indian Film Academy (IIFA) Utsavam awards function has began at Gachibowli in Hyderabad on Sunday morning, and the who's who of the South Indian film industry are attending this colourful event.
Check Photos of Celebs at IIFA Utsavam Awards
On its opening day, the organisers of IIFA Utsavam 2016 honoured talents from Tamil and Malayalam film industries. Hundreds celebs from these industries walked the green carpet on the occasion. The event will see the talents from Telugu and Kannada film industries walking away with awards this evening. Stay tuned to this page to catch the live updates of winners list.
SS Rajamouli's "Baahubali: The Beginning" has bagged the six coveted awards and topped the Tamil Winners list of IIFA Utsavam 2016 awards. "Thani Oruvan" and "Maari" have bagged two awards each, while "Maya" and "Kanchana 2" won 1 award each. Malayalam movies "Premam" has topped the Mollywood winners list with four awards, while "Ennu Ninte Moideen" landed in the second place.
| | | | | |
| --- | --- | --- | --- | --- |
| Category | Tamil/Kollywood | Malayalam/Mollywood | Telugu/Tollwood | Kannada/Sandalwood |
| Best Picture | Baahubali | Ennu Ninte Moideen | Baahubali | Rangitaranga |
| Best Director | SS Rajamouli (Baahubali) | Lal Jose (Neena) | SS Rajamouli (Baahubali) | Anup Bhandari (Rangitaranga) |
| Best Actor | Jayamravi (Thani Oruvan) | Prithviraj (‎Ennu Ninte Moideen) | Mahesh Babu (Srimanthudu) | Yash (Mr & Mrs Ramachari) |
| Best Actress | Nayanthara (Maya) | Parvathy (Ennu Ninte Moideen) | Shruti Haasan (Srimanthudu) | Radhika Pandit (Mr & Mrs Ramachari) |
| Best Supporting Actor | Satyaraj (Baahubali) | Aju Varghese (‎Oru Vadakan Selfie) | Jagapathi Babu (Srimantuhdu) | SaiKumar (Rangitaranga) |
| Best Supporting Actress | Ramya Krishna (Baahubali) | Lena (Ennu Ninte Moideen) | Ramya Krishnan (Baahubali) | Lakshmi Raj (Krishna Leela) |
| Best Negative Role | Arvind Swamy (Thani Oruvan) | Jaya Surya (‎Iyobinte Pusthakam) | Rana Daggubati (Baahubali) | Arvind Rao (Rangitaranga) |
| Best Comedian | Kovai Sarala (Kanchana 2) | Vinay Forrt (Premam) | Vennela Kishore (Bhale Bhale Magadivoy) | Sadhu Kokila (Mr and Mrs Ramachari) |
| Best Music Director | Anirudh Ravichander (Maari) | Rajesh Murugesan (Premam) | Devi Sri Prasad (Srimanthudu) | Anup Bhandari (Rangitaranga) |
| Best Playback Singer (Male) | Haricharan Seshadri (Manohari from Baahubali) | Vijay Yesudas (Premam) | Sagar (Jata Kalisey from Srimanthudu) | Dhanush (Vajrakaya) |
| Best Playback Singer (Female) | Geetha (Baahubali) | Shreya Ghoshal (Ennu Ninte Moideen) | Satya Yamini (Baahubali) | Shreya Ghoshal (Mr and Mrs Ramachari) |
| Best Lyricist | Dhanush (DonU DonU' from Maari) | Shabareesh Varma (Premam) | Rama Jogayya Sastry (Srimanthudu) | Anup Bhandari (Rangitaranga) |
#RamCharan with his love #Upasana at #IIFAUtsavam pic.twitter.com/p5rEsaXTpu

— IIFA Utsavam (@IIFAUtsavam) January 25, 2016
#IIFAUtsavam Green carpet moments with #raviteja pic.twitter.com/OPVLmsmU5P — IIFA Utsavam (@IIFAUtsavam) January 25, 2016
#IIFAUtsavam Green carpet moments with the #themegastar #chiranjeevi pic.twitter.com/BFfqu0oaKQ

— IIFA Utsavam (@IIFAUtsavam) January 25, 2016
#IIFAUtsavam Green carpet moments with the handsome @vivek_oberoi pic.twitter.com/aV6prj6cHP — IIFA Utsavam (@IIFAUtsavam) January 25, 2016
#IIFAUtsavam Green carpet moments pic.twitter.com/P5NmP9lXPC

— IIFA Utsavam (@IIFAUtsavam) January 25, 2016
#IIFAUtsavam Live from the green carpet the most stylish @lakshmimanchu pic.twitter.com/47Mm6T4qZB — IIFA Utsavam (@IIFAUtsavam) January 25, 2016
#IIFAUtsavam Green carpet moments with #balakrishna pic.twitter.com/yQ0yUl5VB0

— IIFA Utsavam (@IIFAUtsavam) January 25, 2016
#IIFAUtsavam Green carpet moments with the beautiful @charmmeofficial pic.twitter.com/NJIhYt2BYL — IIFA Utsavam (@IIFAUtsavam) January 25, 2016
#IIFAUtsavam Green carpet moments day 2live with @directorpvasu pic.twitter.com/6bU7D0MX7V

— IIFA Utsavam (@IIFAUtsavam) January 25, 2016
#IIFAUtsavam Green carpet moments with #saikumar pic.twitter.com/bhFqwGhqlN — IIFA Utsavam (@IIFAUtsavam) January 25, 2016
Here's the awesome couple @iamnagarjuna with his lovely wife at #IIFAUtsavam pic.twitter.com/ZkYm2eKnri

— IIFA Utsavam (@IIFAUtsavam) January 25, 2016
#IIFAUtsavam one of the handsome villain of the south live at the Green carpet @kabirduhansingh pic.twitter.com/cjt8yGw5jL — IIFA Utsavam (@IIFAUtsavam) January 25, 2016
#IIFAUtsavam Green carpet moments with director #kraghavendrarao & producer #dsureshbabu pic.twitter.com/0LryoUqYLS

— IIFA Utsavam (@IIFAUtsavam) January 25, 2016
Guess who our #Dongata boy @AdiviSesh at green carpet #IIFAUtsavam pic.twitter.com/OdlYpNdhE1 — IIFA Utsavam (@IIFAUtsavam) January 25, 2016
#IIFAUtsavam Green carpet moments with the popular producer #svcc pic.twitter.com/bfDmXKojiM

— IIFA Utsavam (@IIFAUtsavam) January 25, 2016
Famous comedian @vennelakishore at the #IIFAUtsavam green carpet pic.twitter.com/I6Ecva8hen — IIFA Utsavam (@IIFAUtsavam) January 25, 2016
@anirudhofficial killin the scene at #IIFAUtsavam. Wearing @sahilaneja n #cufflinks frm @thebrocode_in pic.twitter.com/BJ3fwM9LcC

— Pallavi Singh (@Pali2285) January 24, 2016
South Indian Beauties @ #IIFAUtsavam 2016-https://t.co/FgKSJGzgpT #tollywood #IIFA #shanvi #sanjjanaa #Nikkigalrani pic.twitter.com/EC0eH0w8hn

— Ragalahari (@Ragalahari) January 24, 2016
Here's the pretty @ishatalwar at #IIFAUtsavam Green carpet!! pic.twitter.com/pKdY6HFS1S — Only Heroines (@OnlyHeroines) January 24, 2016
Wohooo all set to burn the stage @IIFAUtsavam @IIFA #IIFAUtsavam #IIFA #iifa @Shiamakofficial pic.twitter.com/vR7KryPEv5

— Adah Sharma (@adah_sharma) January 24, 2016
South Indian Actors @ #IIFAUtsavam 2016 -More @ https://t.co/FgKSJGzgpT #tollywood #IIFA #Madhavan #Jayamravi #jiiva pic.twitter.com/JZbAddl5Xh — Ragalahari (@Ragalahari) January 24, 2016
@adah_sharma 's Performance at #IIFAUtsavam pic.twitter.com/I3IWPHayYn

— Silvana ツ (@sillijo) January 24, 2016
Lovely Ladies @ #IIFAUtsavam 2016 - https://t.co/FgKSJGzgpT #tollywood #IIFA #shriya #sonalchauhan #regina #lavanya pic.twitter.com/kY2xRmmEmE — Ragalahari (@Ragalahari) January 24, 2016
#RakulPreeth about #IIFAUtsavam https://t.co/lfI7mF0yLr #Be1ForChennai #Be1AtIIFAUtsavam

— Telugu Filmnagar (@telugufilmnagar) January 24, 2016
Ulaganayakan #KamalHaasan & @nasser_kameela at #IIFAUtsavam... @KamalHaasanFans pic.twitter.com/NrGfrgLVwH — Ajmal Esmail (@AjmalEsmail) January 24, 2016
@ShreyaGhoshal receiving #IIFAUtsavam Awards for her Malayalam song #Kathirunnu.:) pic.twitter.com/VbDKGZm6mc

— SG- The Flower Child (@ShreyaGLovers) January 24, 2016
Music director anirudhofficial opens up about controversies at #IIFAUtsavam https://t.co/KEyu3owjA6 latasrinivasan pic.twitter.com/72QolyGqzM — Raghav Seth (@raghavseth212) January 24, 2016
Thank you #iifa for this - best singer in Tamil for Manohari (baahubali) @jan_iyer pic.twitter.com/g7Wt36Y781

— Haricharan Seshadri (@Haricharan_Sesh) January 24, 2016
The gorgeous n pretty @nikkigalrani at the green carpet #IIFAUtsavam pic.twitter.com/xS35keCGxV — IIFA Utsavam (@IIFAUtsavam) January 24, 2016
#IIFAUtsavam Green carpet moments with @RadhaNirosha pic.twitter.com/qWdTRnm9g8

— IIFA Utsavam (@IIFAUtsavam) January 24, 2016
Here's the gorgeous @poonamkaurlal at the #IIFAUtsavam Green carpet live. pic.twitter.com/9A1EqTH6iZ — IIFA Utsavam (@IIFAUtsavam) January 24, 2016
#IIFAUtsavam Green carpet moments with the handsome @Actorjiiva pic.twitter.com/EU4P8ELRih

— IIFA Utsavam (@IIFAUtsavam) January 24, 2016
#IshaTalwar at the green carpet #IIFAUtsavam pic.twitter.com/dccamvpxGe — IIFA Utsavam (@IIFAUtsavam) January 24, 2016
Beautiful @poonamkaurlal at green carpet #IIFAUtsavam pic.twitter.com/Tn3Jud0ONa

— IIFA Utsavam (@IIFAUtsavam) January 24, 2016
Sizzling beauty @nikkigalrani at the green carpet #IIFAUtsavam pic.twitter.com/R5I193YCRl — IIFA Utsavam (@IIFAUtsavam) January 24, 2016
The gorgeous @TheParulYadav at the green carpet #IIFAUtsavam pic.twitter.com/eEob3nchBc

— IIFA Utsavam (@IIFAUtsavam) January 24, 2016
Actress #Roma arrived at green carpet for #IIFAUtsavam pic.twitter.com/W9PTPkVT1V — IIFA Utsavam (@IIFAUtsavam) January 24, 2016
#ShivarajKumar on the green carpet at #IIFAUtsavam pic.twitter.com/4FcJYylxJd

— IIFA Utsavam (@IIFAUtsavam) January 24, 2016