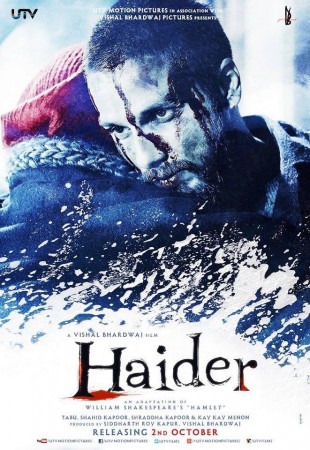 Vishal Bhardwaj's "Haider" has bagged several big honours at award shows this year and International Indian Film Academy (IIFA) Awards is no different.
The winners of the "Technical Awards" category were announced on Wednesday night. Of the 14 Technical awards, "Haider" starring Shahid Kapoor has bagged six honours at IIFA technical awards.
Dolly Ahluwalia, who won National Award for "Haider", has bagged the IIFA award in the Best Costume Designing category. Interestingly, she had won the award in the same category for Farhan Akhtar's "Bhaag Milkha Bhaag" last year.
Kanagana Ranaut's "Queen" and Salman Khan's "Kick" also won two awards each.
Vikas Bahl, Chaitally Parmar and Parveez Shaikh were awarded for the Best Screenplay, while Anurag Kashyap and Abhijit Kokate bagged Best Editing award for "Queen".
Other movies that bagged technical awards this year, includes Aamir Khan's "PK", Sidharth Malhotra's "Ek Villain", Arjun Kapoor's "2 States" and Hrithik Roshan's "Bang Bang".
The IIFA Awards will kick start from 5 June and the main event will take place on 7 June. The award ceremony will take place in Kuala Lumpur, Malaysia.
Check out the complete list of Technical Awards winners below:
Cinematography: Binod Pradhan for 2 States
Screenplay: Vikas Bahl, Chaitally Parmar and Parveez Shaikh for Queen
Dialogue: Abhijit Joshi and Rajkumar Hirani for PK
Editing: Anurag Kashyap and Abhijit Kokate for Queen
Production Design: Subrata Chakraborty and Amit Ray for Haider
Choreography: Ahmed Khan for Kick
Action: Parvez Shaikh and Andy Armstrong for Bang Bang
Sound Design: Shajith Koyeri for Haider
Song Recording: Eric Pillai for Ek Villain
Sound Mixing: Debajit Changmai for Haider
Background Score: Vishal Bhardwaj for Haider
Special Effects Visual: Reupal Rawal for Kick
Costume Designing: Dolly Ahluwalia for Haider
Make-Up: Preetisheel Singh and Clover Wootton for Haider