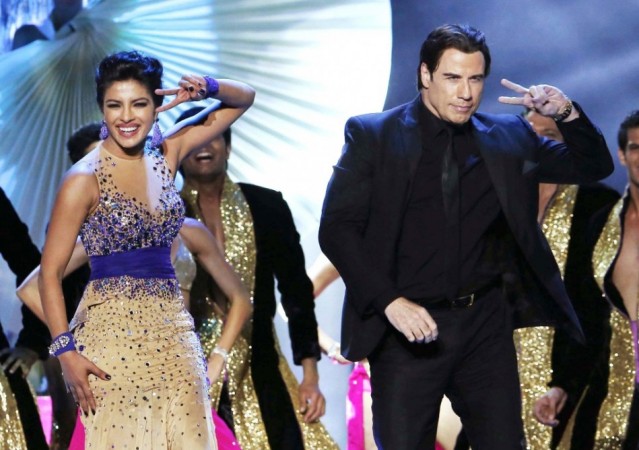 Hollywood star John Travolta made his debut performance at the 15th of International Indian Film Academy (IIFA) awards on Sunday night.
The 60-year-old actor danced with actress and former Miss World Priyanka Chopra and Bollywood hunk Hrithik Roshan at the IIFA Awards, which was held in Tampa Bay, Florida.
Chopra was dancing on her hit number and later she went down and got Travolta to dance with her. Travolta performed Bollywood dance steps with Chopra on "Tune Mari Entriyan" from her film "Gunday." The 60-year-old actor and Chopra also did Travolta's signature dance step from his 1994 blockbuster film "Pulp Fiction."
After the performance, Chopra thanked Travolta for dancing on stage with no rehearsals. "Nobody could have done that without any rehearsal. That's what a true dancer is," she said.
Roshan honoured Travolta with a special award for his outstanding contribution to International cinema.
"This man (Hrithik) is brilliant. It's a pleasure to get this award from you. I am honoured and humbled because you (IIFA) has put me in this category. I thank IIFA for this honour," Travolta said after receiving the award.
Roshan told Travolta that he is his big fan and even choreographed his steps from the film "Saturday Night Fever" several time. Both the actor later did Travolta's famous step on the stage.
And THATS how it's done!! Iifa night fever with d coolest of them all Mr John Travolta! What a night! pic.twitter.com/rEvTNyPgJb

— Hrithik Roshan (@iHrithik) April 27, 2014
My 1st ever dance move inspired by d man I shared d stage with 35 yrs later.I was 5! Ahh..D stories life writes 4 us pic.twitter.com/ZsltbG6Py5

— Hrithik Roshan (@iHrithik) April 27, 2014
This year Hollywood celebrities Travolta and "House of Cards" actor Kevin Spacey were in the limelight when they performed on Bollywood songs. Spacey also shook his leg with actress Deepika Padukone to the tunes of "Lungi Dance" from the film "Chennai Express". [Check out the videos and photos of Spacey dancing on "Lungi Dance" here]
(Ed:AJ)