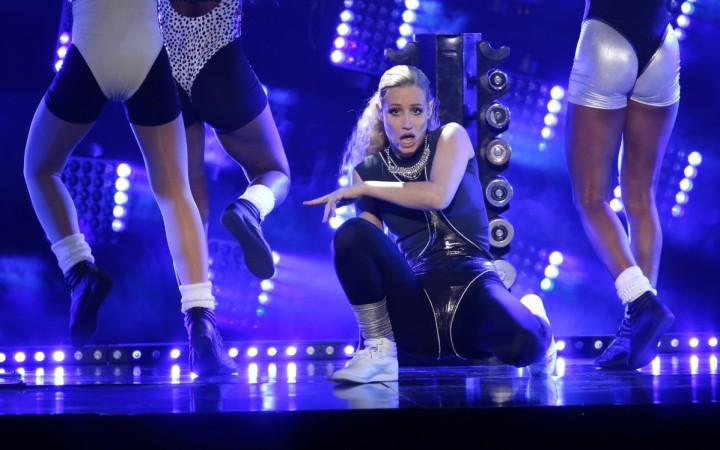 Iggy Azalea may not be the image you get when you think of a celebrity role model, but she doesn't really care. The "Fancy" singer is content being the "realest" and claims that what anyone's mom thinks about her lyrics is not her concern.
Azalea has done quite a bit of controversial mixtapes and videos that grabbed the attention of celebs and music lovers worldwide. Surprisingly, even actress Jessica Alba also got on the I-G-G-Y bandwagon after hearing her track "P*$$y."
In an interview with #legend, Azalea said that she did not expect someone classy like Alba to appreciate the crass lyrics of her song. Despite recognising her lyrics as crass, Azalea has no intention of changing her brand of music. She is cool and she has good messages to share, but she is not a role model.
"As a role model, I don't think I'm a great one. But I would let my child listen to my music and I think I'm a cool person. I think I have a good message," Azalea explains.
Also Read: Chi Chi DeVayne rooting for Bob to win 'RuPaul's Drag Race' Season 8
She has started getting more considerate about what she performs on stage, although recording in a studio is a whole another ballgame. "... I don't sit in the studios wondering what somebody's mom would say about my lyrics," says the Australian singer.
Despite shirking away from the responsibility of being a role model, Azalea has been a spokesperson for the LGBT community, having been the guest of honour at the Beach Gay Pride Parade in March 2016. She has even refused to perform in countries like Russia where people identified as LGBTQ are persecuted.
More than anything else, Azalea belongs to the group of young women celebrities who have begun to convince girls everywhere that being themselves is good enough. Whether she wants to admit it or not, being a propagator of this message makes her a great role model in many people's eyes already.