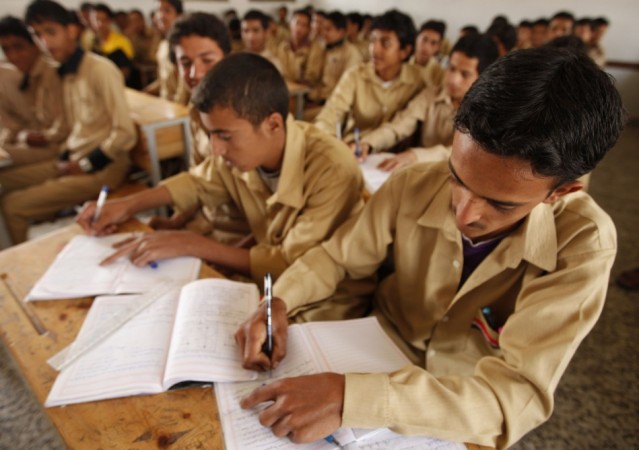 Girls have once again outperformed the boys in the Indian School Certificate Examination (ICSE) class 10 results, which came out on Wednesday (21 May).
Around 98.79 percent of girls and 97.88 percent of boys passed in the ICSE exams this year, CISCE secretary Gerry Arathon said at a press conference.
This year four students from across the country topped the result list with 98.6 percent. Although, girls have outshined boys with a big margin, only one is girl among the toppers.
Siddhartha Shankar Kahali from Jamshedpur, Shreyas Sudhaman from Bangalore, Apoorva Narayanswamy from Bangalore and Rishabh Raj from Rourkela are the four students who scored the highest marks of 98.60 per cent.
The overall passing percentage is 98.28 percent this year. Around 149,087 students appeared for exams this year and out of that 749 were specially abled students. Number of schools that presented students in the exams is 1841.
Out of 82,859 boys, who appeared for the exams, 81,103 cleared, while from 66,228, 65,426 girls passed.
The pass percentage obtained in the major subjects in the ICSE Examination are: English 99.7 percent, Bengali 99.92 percent, Hindi 99.93 percent, History, Civics & Geography 97.58 percent, Mathematics 95.85 percent, Science 99.33 percent, Commercial Studies 99.07 percent, Economics 94.96 percent, Physical Education 99.99 percent, Computer Applications 99.98 percent, Economic Applications 99.97 percent and Commercial Applications 99.97 percent, according to official website.
The exam was carried out in 66 written subjects, out of which 22 are Indian languages and 14 foreign.
The Southern region has the best pass percentage with 99.59 percent, followed by the Western region with 99.41 percent, Eastern region with 98.07 percent and Northern region 97.49 percent.
Check out the ICSE special category statistics as provided by the official website.
5,689 Scheduled Caste candidates had written the exam. The pass percentage is 97.03 percent.
4,878 Scheduled Tribe students took the examination and the pass percentage is 96.68 percent.
21,254 Other Backward Classes (OBC) students took the examination, achieving a pass percentage of 98.36 percent.
Students and parents can still check the results online on the Council website. Click HEREto check the website.
One can also send SMS to check the result – Type ICSE and send it to 09248082883/ 51818/ 56263/58888/5676750