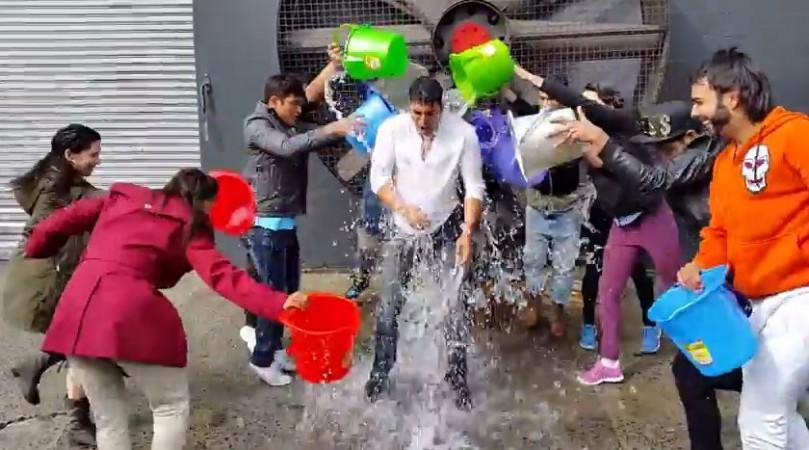 The ice bucket challenge that started to raise awareness and funds of a deadly disease, Amyotrophic Lateral Sclerosis (ALS) in the US has gone viral with several popular figures of Hollywood taking part in the cause. And now even Bollywood celebs have turned to take up the challenge.
Actors Abhishek Bachchan, Riteish Deshmukh, Bipasha Basu, Sidharth Malhotra took part in the challenge and also nominated their friends. [Watch the videos here]
Latest to join the cause was Akshay Kumar, who was nominated by Deshmukh, took the ALS Ice Bucket Challenge, where he dumped not just one, but 11 buckets of ice cold water. The actor has now nominated his wife Twinkle Khanna and Salman Khan.
Kumar is currently in Cape Town shooting for his dance show "Dare To Dance". He used sea water instead of fresh water and poured on himself, as he believes using fresh water is mere waste of resource.
"I have just asked one contestant to help me, and the other 10 also came along to help because we are Indians and we help each other a lot. Also I want to tell you guys that I am using sea water because I don't want to waste fresh water. I want to nominate my wife Twinkle Khanna, my friend Ashwini Yardi, Salman Khan and Johny Lever. I dare them to take the ALS Ice Bucket Challenge. It's for a good cause," he added in the video.
Meanwhile, Punjabi pop singer Daler Mehendi also took up the task. The "Bolo Ta Ra Ra" singer accepted the challenge after one of his young fans nominated him.
Mehendi has now nominated Shah Rukh Khan, Amitabh Bachchan and Priyanka Chopra to take up the challenge.
Now, it remains to be seen if the Khans of Bollywood, Shah Rukh and Salman and the Shahenshah of B-Town, Amitabh Bachchan take up the icy challenge.
Meanwhile, Sonakshi Sinha who was not nominated by anyone took the challenge but with a twist. The actress donated the money, but did not pour any water on herself instead managed with a single ice cube.
ALS is commonly known as Lou Gehrig's disease. The disease affects the brain nerve cells and gradually leads to complete paralysis, though the mind remains active. About 30,000 Americans are affected by this deadly diseases, according to a report in The New York Times.