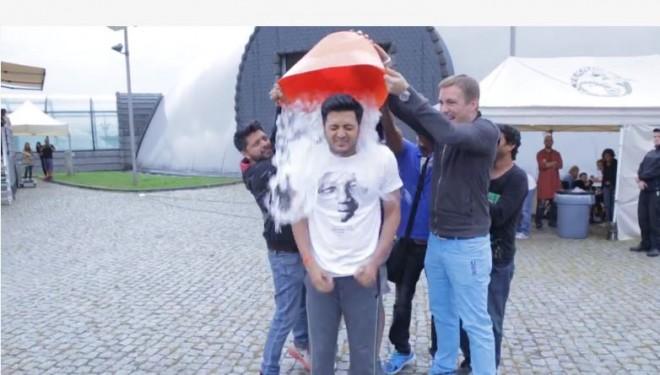 The "Ice Bucket Challenge" that originated in the US has spread like wildfire on social media with many Hollywood celebrities participating in the daring task to raise funds and spread awareness of the deadly disease, Amyotrophic Lateral Sclerosis (ALS).
The brave challenge of pouring freezing cold bucket of water over their heads has now reached India with celebrities taking up the challenge sportingly.
As per the rules of "Ice Bucket Challenge", people who accept the task, has to dump freezing ice bucket over their heads and post their video on video sharing websites. But prior to completing the challenge, they have to nominate three others, who need to take it up within 24 hours or else donate $100 to any charity working for neurodegenerative disorders.
In India, it started with tennis player Sania Mirza, who poured a bucket of ice on her and posted the video on YouTube. She then nominated actor Riteish Deshmukh for the challenge that the actor accepted. He completed the challenge within hours after Mirza posted her performance on YouTube.
Watch Mirza's "Ice Bucket Challenge":
Deshmukh after completing the task posted his video on Facebook. In the one minute and nine seconds video, the actor is seen taking up the challenge quite sportingly.
After completing his challenge, the actor nominated his friends Akshay Kumar, Sidharth Malhotra, Abhishek Bachchan, Ashish Chowdhry and Pulkit Samrat to do the task within 24 hours.
Now, Bachchan has also successfully completed the task.
Check the video here.
Now, it remains to be seen if Kumar, who is known for his brave stunts accept the challenge or ends up donating money.
Even actress Bipasha Basu accepted her best friend's challenge and completed the task with a small bucket of cold water.
Check out Basu's small "Ice Bucket Challenge":
Until now, many celebs and politicians were nominated for the challenge, including Barack Obama. The president, however, politely refused to do so, and opted to donate $100.
Among some celebrities who have had accepted the challenge include, Chris Pratt, Robert Downey Jr, Conan O'Brien, Justin Bieber and Oprah Winfrey.
For the uninitiated, ALS is commonly known as Lou Gehrig's disease. About 30,000 Americans are affected by this deadly disease, which attacks brain nerve cells, which eventually leads to complete paralysis, though the mind remains active. The life expectancy is usually two to five years from the time of diagnosis, according to a report in The New York Times.
The viral phenomenon has raised close to $3 million for the ALS Association, which is 50 percent more than they raised last year; all because of many people across the world who accepted the challenge and had spread the cause.