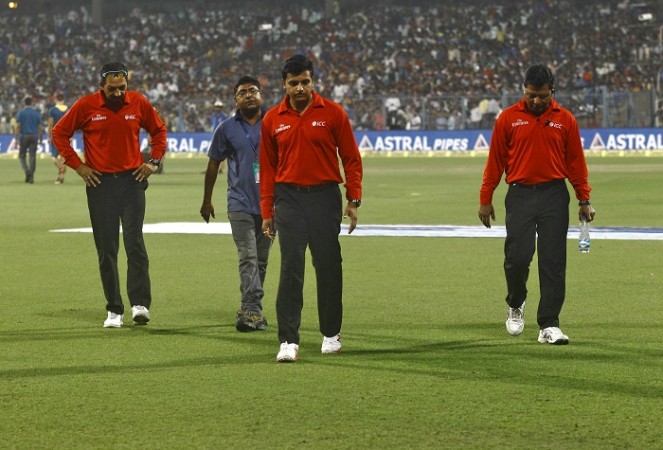 The format of the T20 game is such where batsmen go at it hammer and tongs, bringing umpires in the firing line as the ball may strike them, leading to injuries. Such instances of umpires being struck with the white ball has happened in the recent past, which seems to have prompted the International Cricket Council (ICC) to provide all umpires with helmets for the upcoming World T20 in India, which starts in March.
It is not compulsory for the umpires to wear the protective gear.
"I know for the T20 World Cup we're all going to be issued helmets. We're not obliged to wear them, it's totally up to us, but it's certainly something I'll be taking on board and thinking about," cricket.com.au quoted Richard Kettleborough as saying.
This is a welcome move by the ICC, who must have been alarmed over two umpires being hit with a cricket ball of late. An Australian umpire was hit in December while officiating a match and well-known English umpire Kettleborough was hit in the 4th ODI when India faced Australia in Canberra on 20 January 2016.
The umpires are always constantly threatened following the introduction of the T20. Players of today, who wield thick willows, hit the ball hard, which can lead to injuries if the ball hits the umpire. Apart from thick bats, players are much more muscular as they make it a point to go to the gym and increase their muscle power.
"In the last three-four years, the fitness and strength of the players has increased dramatically, and the bats are so much better, so the guys are hitting the ball a lot harder," said Kettleborough. "We've seen some umpires being hit in recent times, and it's becoming quite dangerous, certainly in T20 and one-day cricket."
The umpire further said non-strikers and bowlers, who often end up in the line of fire, are in danger of being hit as well.
"Our safety, as with the players, is paramount. The non-strikers are in danger, too, as is the bowler in his follow-through, there's no doubt about that," said Kettleborough. "It's only a matter of time before someone gets hit quite bad."