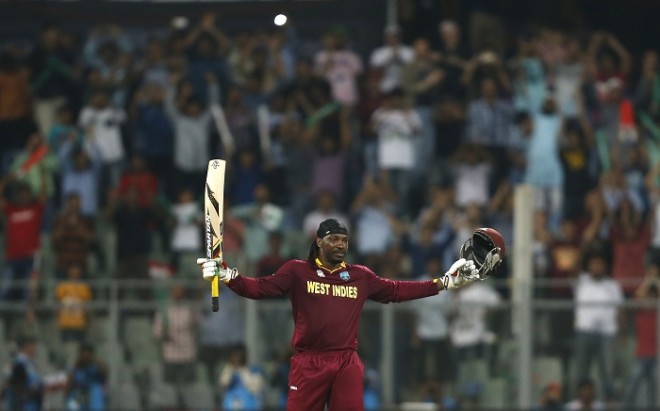 This was how Chris Gayle's innings panned out against England - 0, 0 , 4, 6, 0, 0, 0, 0, 0, 4, 0, 1, 1, 4, 1, 1, 6, 6, 1, 0, 1, 0, 1, 6, 6, 1, 6, 4, 1, 0, 0, 6, 6, 6, 1, 0, 4, 4, 6, 0, 6, 1, 1, 0, 1, 0. Chris Gayle, alone, tamed England, a side that came into this ICC World T20 2016 with a lot of promise.
At the end of it all, the Wankhede Stadium chanted only one name -'Chris Gayle, Chris Gayle, Chris Gayle.'
Just like AB de Villiers, the big Jamaican is loved by all here in India and the crowd was thoroughly entertained by the West Indies opening batsman.
Gayle smashed his second T20 international hundred against England and became the only player after Brendon McCullum to achieve this feat. If one includes his other league centuries, then nobody is even close to breaking that tally of 17 T20 centuries.
Watch the highlights of West Indies vs England here.
Gayle said after the match that he was well prepared for this ICC World T20 and he was motivated by the words of his teammate Suleiman Benn. So in one way, one can also thank Benn for this Gayle knock that the world got to witness, Wednesday at the Wankhede Stadium in Mumbai.
Gayle is now eyeing yet another storm against Sri Lanka in Bengaluru, and people love him more at the M Chinnaswamy Stadium because it is his home ground in the IPL as he plays for the Royal Challengers Bangalore.
"We wanted to stay ahead of the run-rate, pleased to finish the game and not leave it to anyone else. I was pumped today," Gayle was quoted as saying by PTI.
"Before I went out, Sulieman Benn said 'entertain me'. Hopefully we can move onto Sri Lanka now. Bangalore, my home town. Hopefully I can entertain again.
"The preparation has been really good, it's all about practising and then doing it in the middle."
"The pitch was flat and dew played a part as well. After facing the first over I took a while to get back on strike, but Marlon helped ease the pressure. The guys who play the IPL know it's a good wicket so we knew we always had a chance to chase it down."
Gayle looked so calm and composed during his swashbuckling innings against England. He is determined to contribute with his bat in the upcoming matches as well and that will only help West Indies in making it to the knockout stages.