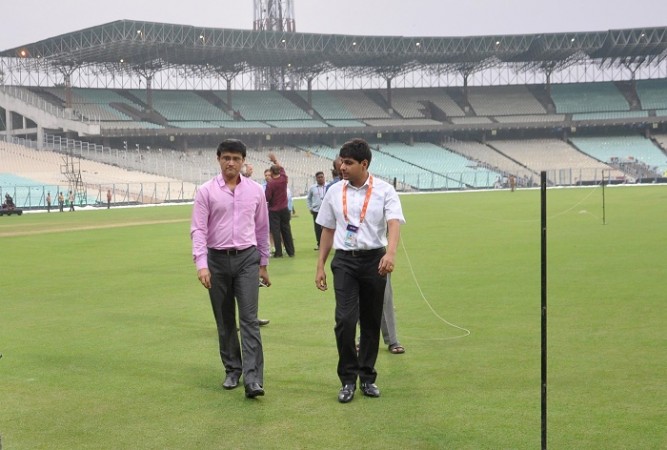 The International Cricket Council (ICC) announced, Wednesday, that India vs Pakistan will be moved out of Dharamshala due to security reasons and the iconic Eden Gardens will host the match. This news has not only brought smiles to the faces of the fans of the game in the City of Joy, but also their beloved former India captain Sourav Ganguly, who is also the president of the Cricket Association of Bengal (CAB).
"Firstly, I feel for Himachal, Dharamsala. I sympathise with Anurag (Thakur, BCCI secretary) and the people of Himachal for what has happened — must be a very sad day for them but with no fault of theirs. It is one of the finest stadiums and it could have hosted this game easily," Ganguly was quoted as saying by IANS.
"We are happy at the same time that it (the India vs Pakistan match) is with us. But this was going on for a while, so we had requested the BCCI that we have one of the best grounds in the world and the ground is outstanding now.
Eden Gardens were not awarded any of the India games previously, and Ganguly had asked BCCI for at least one match of the four Super 10 games. But, the BCCI decided to give Kolkata the final of the ICC Wrold T20 instead.
Now, the scenario has changed. Ganguly thanked the BCCI and ICC for letting Eden Gardens host this mega match.
"We wanted to have an India game, every other venue has an India game but we don't have, only the final. We had requested the BCCI for the match, and we are thankful for them, Ganguly added.
"Criteria is Eden Gardens, logistics is also an issue. It is also due to Eden Gardens' history."
However, Ganguly was a little bit sceptical about the ticketing. The fans who had bought the tickets for the India vs Pakistan game in Dharamshala will be either refunded or they can swap their old tickets with a new one to watch the much-awaited encounter at Eden Gardens.
Ganguly confirmed that they will receive the tickets on March 12, before the tickets go on sale a couple of days later.
Despite the delay in the selling of tickets, Eden Gardens is expected to be a full house on March 19 when the two archrivals India and Pakistan will lock horns in a Group B match of the ICC World T20 2016.
"It is tough, ticketing will be difficult. Preparation is not a problem, we prepare for every game. Handling tickets will be an issue," the CAB president said.
"Pricing will be same as final. On March 12 we will get the ticket, two days for stamping and all, so we will have around three days to distribute and sell."