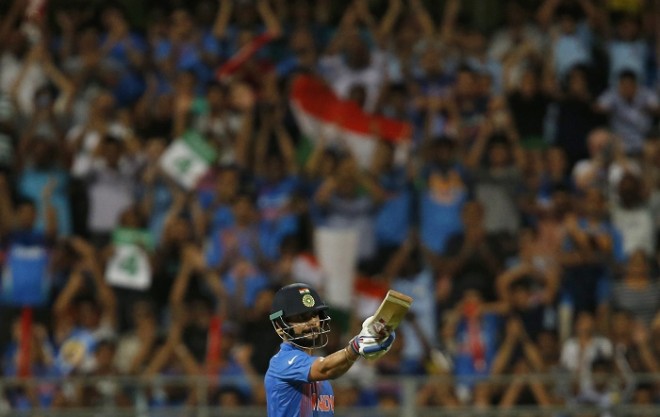 This ICC World T20 2016 has been a memorable tournament for several reasons. From India's thrilling win against Bangladesh to West Indies dancing to the tune of 'Champion' after being crowned the T20 champions of the world, we saw it all.
Now it is time to look back at some of the memorable innings played by the batsmen during the ICC World T20.
1. Marlon Samuels 85 from 66 balls (World T20 Final) - This was a special innings from the Jamaican. He scored a brilliant innings back in 2012 against Sri Lanka in the final and he did it again in this edition of the World T20. A calm and composed innings it was to begin with, as it steadied the sinking ship of the West Indies, who had lost three early wickets. Samuels paced his innings beautifully and kept on finding the boundaries when it came to the end of the innings. The rest of the job was completed by Carlos Brathwaite in the final over to seal the memorable victory.
Catch a glimpse of the Marlon Samuels innings here.
2. Virat Kohli 82 from 51 balls against Australia in Mohali - Kohli has taken his game to a different level altogether. The India vice-captain has been carrying India's batting on his shoulders for quite some time now. This innings was another example of it. The group match against Australia was a virtual knockout game. India had to win in order to qualify for the semis. And the master of run chases pulled off yet another stunning victory. Kohli's innings of 82 runs from 51 balls was decorated by nine fours and two sixes.
Watch highlights of the Kohli innings here.
3. Joe Root 83 from 43 balls against South Africa in Mumbai - No one ever imagined that England will actually chase down a mammoth total of 230 runs in 20 overs. But, they did. Thanks to some incredible batting from Joe Root. England never looked like they were out of the game as long as Root was at the crease. The right-handed batsman took England close to the finish line, before Moeen Ali hit the winning run.
Take a look at some of the highlights of Joe Root's innings here.
4. Chris Gayle 100 from 48 balls against England in Mumbai - The big Jamaican enjoyed himself at the Wankhede. The crowd in Mumbai waited in anticipation to experience a 'Gayle Storm'. They did not have to wait for long. West Indies were chasing a total of 182 runs. Gayle won them the match with his ton. He hit 11 sixes in that innings. Gayle remained unbeaten till the end and helped West Indies to seal a victory with 11 balls to spare.
Watch some of the huge sixes that came from Gayle's bat here.
5. Virat Kohli 89 from 47 balls against West Indies in Mumbai (World T20 semi-finals) - This innings will also add to Kohli's specials. Unfortunately, this innings from the vice-captain of India, ended up being in a lost cause. One has got to feel or the man, the way he batted throughout the tournament and the manner in which he paced his knocks were simply outstanding. In this match, India got off to a decent start unlike their other matches, but they had to put a good total on the board in order to give their bowlers something to play with.
Kohli's innings of 89 runs from just 47 balls helped India post a total of 192 runs at the end of 20 overs. But, much to Kohli's disappointment, West Indies chased it down - courtesy - a brilliant innings from Lendl Simmons. However, this brilliant knock from Kohli only strengthened his case for the player of the tournament honours, which he duly won.
Take a look few of the highlights from Kohli's innings against West Indies here.