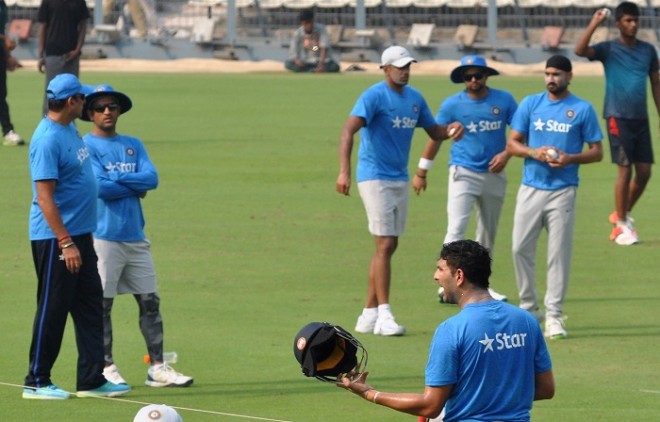 India have come into this ICC World T20 2016 as the top-ranked side according to the latest rankings. Most of the teams have stated that India are the favourites to win the ICC World T20.
MS Dhoni-led India have been on a rampaging run in 2016, having lost just one out of 11 T20 games that they have played.
Recently, they were crowned the champions of the Asia Cup after they hammered Bangladesh in the final of the tournament.
This has pleased the Team India interim director, Ravi Shastri, and he has every reason to smile. Shastri has heaped praises on the players of the team and he believes with this momentum, India can win the ICC World T20 2016.
"Virat (Kohli) is in outstanding form, and so is Rohit (Sharma)... MS (Dhoni) has done well lower down the order, Yuvraj (Singh) has struck form, Shikhar (Dhawan) has had his moments," Shastri was quoted as saying by Cricbuzz.
"We have got into a good habit of winning games. You might get the odd hiccup on the way. But it's important to maintain a level of consistency and treat every game as an important game."
Shastri has hailed Virat Kohli for his recent run of form and feels that the vice-captain will make it big in the ICC World T20 2016.
"Every time he bats, you can see passion written all over. You can see his body language, he just loves the big stage. He wants to compete against the best in the world," Shastri said.
The former India captain has also stated that MS Dhoni is the best and he is a champion already. Shastri feels that Dhoni will still be targeted by the people of this country even after his performance in the Asia Cup final.
"I've said long back that he (Dhoni) is the best. What else is left for him to be achieved... but there will still be people who want him to retire.This is normal in our country. You go after your champions," Shastri added.
The interim coach of Team India feels that India, being the best side in the world, has a good balance of youth and experience. This is what makes them very dangerous. He is unable to fit in players like Ajinkya Rahane and Harbhajan Singh regularly in the playing XI, and that is a "good headache" for him and the captain.
"Any good side needs balance between youth and experience. If you look at history, the world No.1 sides would always have experience and youth. The youngsters bring energy to the table and keep the seniors on their toes while they too want to emulate the seniors," Shastri concluded.
"That's the criteria of a good team - its bench strength. Players like Harbhajan and Rahane can get into any team in the world. So it's a good problem to have."