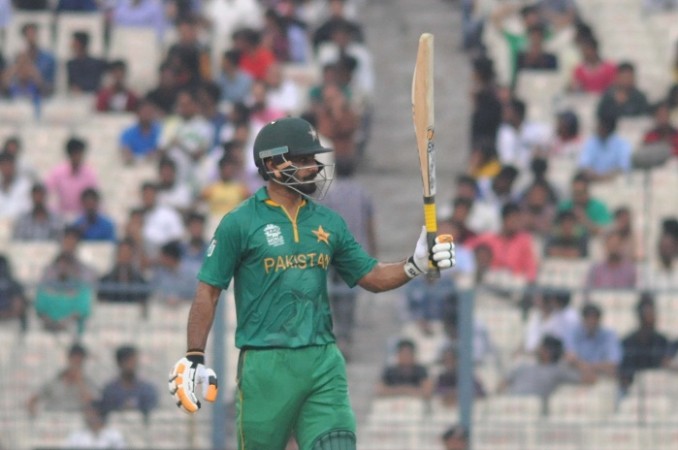 Pakistan were handed a heavy defeat by India in their previous ICC World T20 2016 game. Now, they face an upbeat New Zealand in a crucial match in Mohali, Tuesday.
While Pakistan will know the importance of beating the Kiwis, they will go into this match in not the greatest of moods. Apart from the defeat to India, Pakistan also have to contend with injuries to Mohammad Hafeez and Wahab Riaz.
Veteran Hafeez, who has shown good form with the bat, sustained a knee injury and is highly unlikely to feature in this big match against New Zealand.
Hafeez has bone contusion in his right knee and there's also evidence of fluid in the knee joint. Hafeez will be assessed just prior to the game, but the Pakistan team media manager has confirmed that the side might have to take the field in Mohali without the batsman.
"Hafeez complained of pain in the right knee a couple of days ago. He was administered physio treatment several times but the pain didn't t subside. On examination he was suspected to be having a strain of one of ligament in his right knee," Pakistan team media manager stated in a press release.
"He was sent for an MRI immediately after arrival in Mohali from Kolkata. The MRI report received today revealed bone contusion/edema in the inter-condylar region of the femur."
"There was also minimal amount of fluid in the knee joint. He would be further inspected, but it is likely that he would not be able to take part in the match against Black Caps."
Apart from Hafeez, Wahab also is under an injury cloud, after taking a blow in the neck region during a practice session. He was rushed to the hospital and underwent a CT scan, after consulting with a neurologist. The Pakistan team doctor Sohail Saleem confirmed while the injury was not serious, the left-arm seamer's fitness will also be checked upon ahead of the match against New Zealand.
"It was a mild swelling but no loss of consciousness, vomiting or delusions and he was very well oriented in time and space. His strength and reflexes were also found to be normal," Saleem said in the press release.
"He himself walked over to the dressing room from the ground. Subsequently he was taken to a medical facility for CT scan as a precautionary measure, which confirmed that there was no fracture in the cranium and pericranial soft tissue appeared normal."
"He was also seen by a neurologist at the same hospital, who declared him normal. Wahab is being kept under supervision of the team doctor and physio overnight in his hotel room."