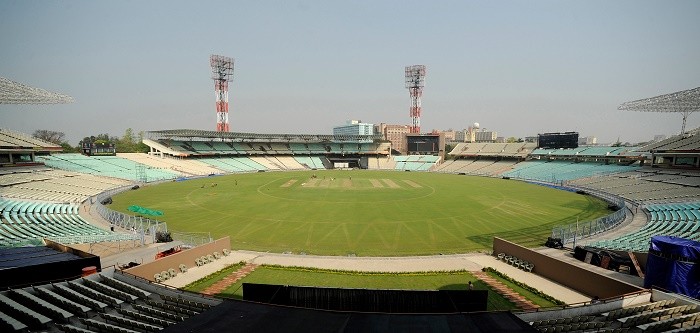 The International Cricket Council (ICC) will officially launch the ICC World T20 2016 in Mumbai on Friday at the St. Regis Hotel.
Virat Kohli, Ajinkya Rahane and Shikhar Dhawan will also be present at the launch event on Friday.
The mega T20 tournament will start from 11 March and the final will be played on 3 April. The iconic Eden Garden will host the final. In the last 28 years, this colosseum of cricket have not hosted any major final.
Bangalore, Chennai, Dharamshala, Mohali, Mumbai, Nagpur and New Delhi are other cities, apart from Kolkata, who will be hosting the ICC World T20 2016 matches.
However, ICC might not give Chennai any game as they want all the stands to be open. Three stands have remained closed because of a dispute between Tamil Nadu Cricket Association and Chennai Corporation. If the issue is not resolved and they do not use those three closed stands, Chennai will miss out on this major tournament and its crunch encounters.
ICC has also launched the logo of the tournament on Tuesday by saying that the Wold T20 is coming to India for the first time.
Let us have alook at the ICC World T20 2016 logo:
Here is the world first viewing of the ICC World Twenty20 2016 logo #WT20 It's coming to India, March 2016! pic.twitter.com/SLPIzZx7qt

— ICC (@ICC) December 8, 2015
"BCCI is extremely proud to host this prestigious event. We want this World Twenty20 to be a memorable experience for our participants and fans. I am confident that all the venues nominated will deliver a world class event," BCCI secretary Anurag Thakur had said earlier.
This will be the sixth World T20 tournament. India became the first T20 champions in 2007. They were followed by Pakistan, England, West Indies and Sri Lanka. India came close to winning the ICC World T20 2014 in Bangladesh, but they were outclassed by Sri Lanka in the final.
The World will be eagerly waiting to see as to which nation will lift the sixth ICC World T20 trophy. India being the host will definitely have the advantage, but cricket is a funny game as one never knows when the wheels of fortune takes a u-turn.