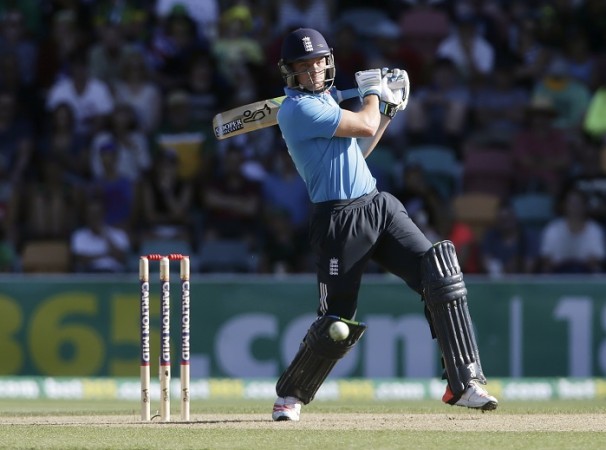 Jos Buttler has been tipped to step up and become one of the stars for the England team at this World Cup, and the wicketkeeper/batsman believes he needs to do it like Virat Kohli if he is to justify his obvious talent.
Kohli has quickly become one of the best batsmen in cricket, especially on ODIs, with the India right-hander hitting matchwinning hundreds left, right and centre.
While Buttler has showed his immense talent every now and then, that consistency is still missing, and the England man pointed to the manner in which Kohli has turned himself into the world's best as the path to follow.
"I want to be a consistent performer, not somebody who could be a good player for England and a no one in that team," Buttler said. "It's great to have potential, it's great to have talent but there comes a stage where you want to be someone where media and commentators talk about you being a performer for England.
"That's the stage you have got to get to. Virat Kohli is only 26 and is not the finished article but he performs at a level which is the world's best and that is what everyone aspires to get to as fast as they can."
England beat India in both their tri-series games, and, even if they lost to Australia in the final of that tournament, go into the World Cup in confident mood. Buttler knows, if he can produce a few magical innings in the greatest stage of them all in limited-overs cricket, then he might just find himself in that same bracket as the likes of Kohli, AB De Villiers and Steven Smith, sooner rather than later.
"It is exciting," added Buttler. "Playing in a World Cup is something that you do dream of growing up.
"I feel like I know I am capable of some really good performances, I don't want them to come quite so sporadically, I want to become a really consistent, high-class player for England.
"To have the stage of a World Cup to try and put in some performances that people sit up and take notice of and guys who say what a consistent performer this guy has turned into, it is not about potential, it is about performance now.
"For me that is something I am desperate to do."
Buttler has been coming in at No.6 or No.7 for England in ODI cricket, and there have been calls for him to be moved further up the order, such is his talent and potential for destruction.
The 24-year-old, though, is more than happy to bat wherever his team need him to, even if batting at No.7 means lesser balls to face.
"Batting at 7 means opportunities arise at different ways, sometimes to finish an innings or sometimes to rebuild an innings," he said. "It gives me good confidence to know that I can bat for that period of time, get a score and a partnership which helps us to win the match.
"Whatever way my opportunities come with the bat in the World Cup, I will be obviously desperate to take them."