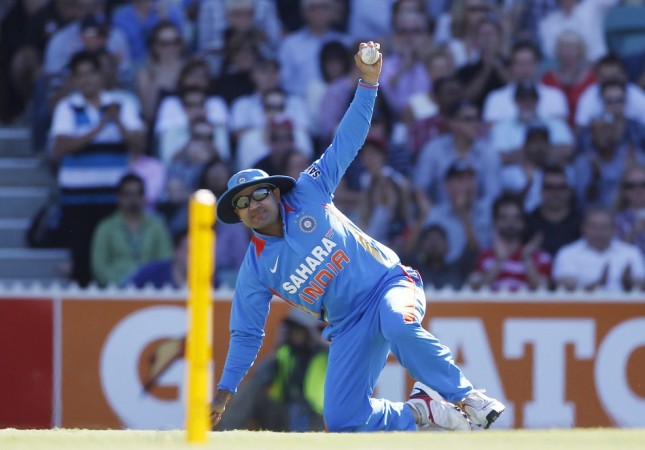 Virender Sehwag, might have been overlooked for the 2015 World Cup, but the Nawab of Najafgarh feels that the India team will make it to the semifinals of the competition in Australia and New Zealand.
The Indian team are the defending champions, after they won the last edition of the World Cup defeating Sri Lanka in the final. Sehwag was a key member of the 2011 World Cup winning team.
"I am sure India will make it to the semifinals and after that it would depend on how they play on a particular day," he was quoted as saying by PTI.
Having said that, the competition down under is going to be tough, for there are a number of teams, which are vying for the title and considering India's recent performances in Australia, India need to pull their socks up, if they are to feature in the final four of the competition.
"I don't think the team will be much affected with their recent performances. Everyone will give their 100 percent effort during the World Cup and recent results may not have any influence."
Recent form does not seem to be a concern for Sehwag, as he drew comparison with India's performance prior to the 2003 World Cup, before playing some top notch cricket to finish as the runners up in the mega event.
"Just before the 2003 World Cup, India had a disastrous tour of New Zealand and everyone thought that we won't do well in South Africa," added the flamboyant opener. "But we ended up making it to the finals."
Interestingly, Sehwag has not picked any Asian side for the final four, barring India. He also gave his predictions about the rest of the semifinalists.
"Besides India, I think Australia, South Africa and New Zealand will make the semis," said Sehwag.
Virende Sehwag formed the core of the Indian batting lineup a few years ago alongside Sachin Tendulkar, Rahul Dravid, Sourav Ganguly and VVS Laxman. This famed Indian batting lineup sent shivers down the spine of some top bowlers around the world.
Barring Sehwag, rest of the above mentioned players have already hung up their boots. But, Sehwag is in no mood to quit the game as he feels he has some years left in him to play competitive cricket.
"I am still playing," he said. "I would continue to play, and not think about anything else at least for a couple of years."