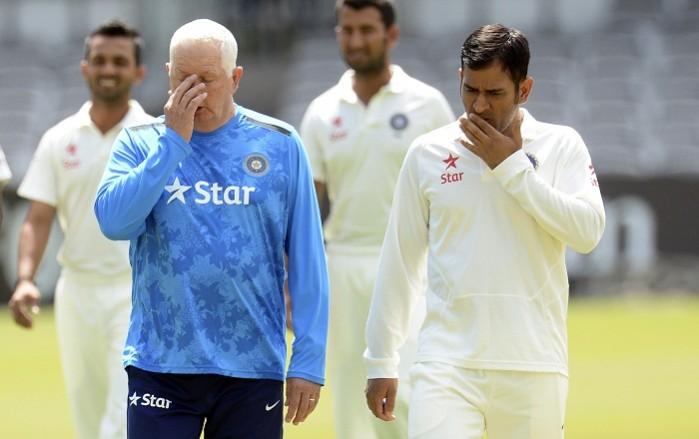 After India's fine start in the ongoing ICC World Cup 2015 in Adelaide Oval, where the men in blue defeated Pakistan, the Indian team seemed to be a happy lot as they were all smiles, walking back to the dressing room to celebrate yet another victory against the men in green at the quadrennial event .
This would suggest that the Indian team is a happy bunch, which includes coach, players and the support staff. But, the same was put into question, when it was learned that Duncan Fletcher had been ignored in an impromptu hotel meeting.
But, to clear any such negative air, the team management stated that no such meetings took place.
"I can confirm that no such meeting was held. There is absolutely no truth that Duncan was not kept in the loop about a meeting of the support staff. I can only term this as figment of imagination," team's media manager DR RN Baba said, as quoted by The Times of India.
One does not need a rocket scientist to explain that Duncan Fletcher is serving Indian cricket until his contract expires.
It was under the suggestion of Gary Kirsten that the BCCI roped in former England coach Duncan Fletcher, replacing the Proteas batsman to coach the Indian team, but the Zimbabwean was not a huge hit.
Talking about the issue (impromptu meeting), a BCCI official said, "Do you people seriously think that Fletcher needs to be sidelined with these kind of childish tricks."
"Fletcher has a contract till the end of the World Cup, which is only a month and half away. We don't think he will seek an extension. So if a man is leaving after the World Cup, do you need to do something like this."
Meanwhile, the Indian team, under the leadership of MS Dhoni, team director Ravi Shastri and coach Duncan Fletcher was successful in executing their plans to perfection to help India keep their unbeaten run in the World Cup against Pakistan intact.