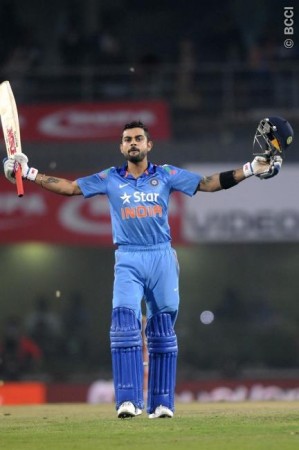 Virat Kohli is the golden boy of Indian cricket and rightly so, as he has been one of the best batsmen for the last 12 months or so. He has been drawing comparison with one of the finest batsman that the world has ever seen, Sachin Tendulkar.
Such has been the record of Virat Kohli, especially in coloured clothing that some feel Kohli could break Tendulkar's record as well. Virat Kohli made his ODI debut for India in 2008 against Sri Lanka, after which there has been no looking back.
He has amassed 6418 runs in 153 ODI matches, while his Test career record reads 2547 runs in 33 Test matches with 10 centuries. Virat Kohli has already scored 22 hundreds in ODI and if he goes at this rate he could probably break Tendulkar's record of 49 centuries in ODIs.
Former Pakistani bowler, Aaqib Javed has witnessed both the players up close, as he played for Pakistan while Tendulakr played for India. With Aaqib Javed being the coach of the UAE team in the ongoing World Cup, he has got a chance to watch Kohli closely as well.
The former Pakistani pacer feels Kohli reminds him of Sachin Tendulkar. "This boy Virat is something else, he reminds me so much of Tendulkar of the early 1990s," Aaqib Javed told The Times Of India.
"We started bowling at Tendulkar when he was a kid. There was this amazing fearlessness in him that I see in Kohli. This guy never ever takes a backward step."
Kohli has been the mainstay of the Indian top order of late and the same goes with Sachin Tendulkar during his time.
The Indian team depends to a large extent on the success of Virat Kohli. If India are to win the World Cup, Virat Kohli needs to be consistent and score big in important matches.
Kohli has the special talent of playing on both sides of the wicket. He is not only strong on his pads, but also drives the ball very well on the off side. He never gives his wicket away, as he always tries to keep the ball on the carpet.
"Tendulkar used to set it up in ODIs, Kohli has the habit of finishing the game. It shows the boy's maturity. And like Sachin he can play on all sides of the wicket. He is equally fluent on both front and back-foot."
Whenever India chases, Virat Kohli has been a huge player for India, as he finishes the game like no other without taking much risks.
India has not had much chance to chase in this World Cup, as they have batted first against the Proteas and Pakistan, but when India had to chase 100 odd runs against UAE, Kohli finished the game 33 not out.
If India needs to chase big scores in the competition anytime soon, one can count Virat Kohli to lead the run chase to perfection.