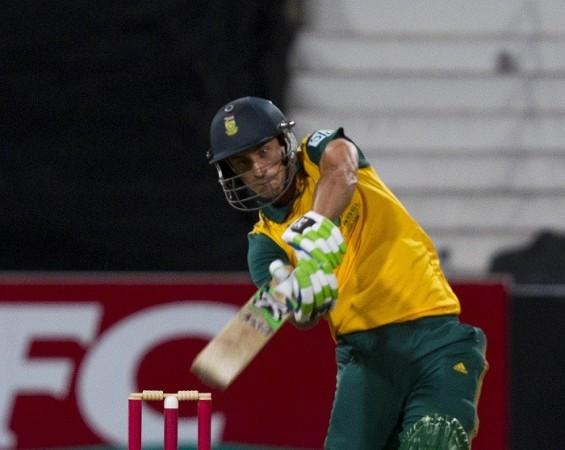 India, South Africa, Pakistan and West Indies are expected to be the four teams to qualify for the quarterfinals of the World Cup from Pool B, with the other question being in "What order?"
South Africa and India look the strongest on paper, but with the mercurial abilities of Pakistan and West Indies, you can never count them out to finish in the top two, while a result or two from the likes of Zimbabwe, Ireland and UAE to upset the applecart can never be ruled out either.
However, Faf Du Plessis believes the top two places in Pool B is likely to be decided between India and South Africa, with the ICC World Cup 2015 match between the two – the second one for the sides – set to be the decider.
"It's the India game that is likely to decide the No.1 and No.2 in the group," said Du Plessis.
"On paper, that should be the case, but in World Cups we know that's not the case. There are always upsets so expect one of the minnows to play a good game of cricket.
"On paper, India are quite a strong team, they've done really well in ICC tournaments. West Indies we know are dangerous on their day and Pakistan are the same."
India play South Africa at the Melbourne Cricket Ground on 22 February, a match after they take on rivals Pakistan, and it is expected to be another World Cup cracker, especially with the kind of support expected for the Men in Blue – they will undoubtedly be the most supported team after the hosts, and in certain cases, maybe even more.
"We are looking forward to that game against India," said the South Africa T20 captain. "It's going to be a full house, and that's what makes it so interesting when we play India. I just love the atmosphere.
"We always enjoy the challenge of playing a really good side like India."
South Africa have looked in good form – things didn't go too well today, though, in their final World Cup warm-up against New Zealand – and if they play at the peak of their powers, they will be a difficult team to cut down -- natural when you have the likes of AB De Villiers, Hashim Amla, Daley Steyn, Morne Morkel and Vernon Philander, to just name a few, in your team.
Having played plenty of games to tune up for this World Cup, a title they have never won, the Proteas now just want to go out there and let their performances speak for itself.
"It's taken so long," added Du Plessis. The build-up to the World Cup has been like a year now so as a team we're very excited and ready.
"We've played a lot of cricket and want to get going. The important thing is that we're doing really well at the moment and not seeing too much into these warm-up games. All our focus is to get up to that first game against Zimbabwe."