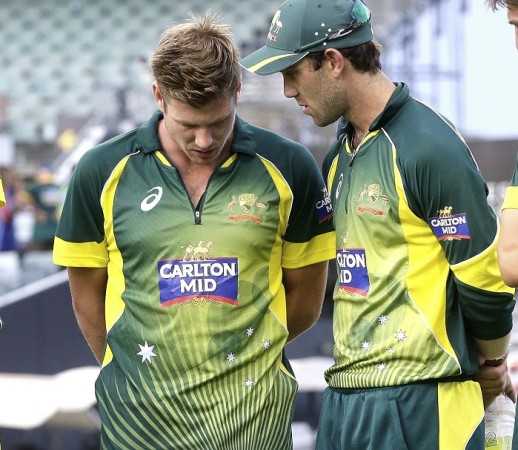 The one big fear for every single player heading into the most important limited-overs tournament in cricket is picking up an injury which could rule him out at the last minute.
James Faulkner might just be the victim of that unfortunate circumstance, with the Australia all-rounder forced out of the field during the tri-series final against England with a side strain.
While it is too early still to comment on the possible outcome, Australia all-rounder Glenn Maxwell, who starred for his side in the thumping win over England in the final at the WACA in Perth on Sunday, did not sound too positive.
"He's pretty down at the moment with such an amazing thing coming up for us -- a home World Cup," Maxwell said. "The thought of us being ruled out so late with an injury even if it's nothing just the thought of that would hurt a lot of people.
"I know a few of us out there were hurting for him when he went off. He's super cricketer and he's a vital cog in this Australian outfit. We can hope that is nothing and he's being soft and he gets back and trains hard with us next week.
"We're all feeling for him. We hope he recovers pretty quickly and can get back out there with us."
While Australia are well stocked in fast bowling all-rounders – they have Mitchell Marsh and Shane Watson in the 15, while Mitchell Johnson and Mitchell Starc can wield a mean handle as well when necessary – Faulkner is perhaps their best in the one-day game.
The leftie has the unerring ability to finish of an innings in style, be that batting first – encapsulated in that brilliant 24-ball 50 in the final – or while chasing. There is little doubt that Australia will be praying and hoping the injury does not prove to be too serious, because the ICC World Cup 2015 co-hosts could certainly use Faulkner's services.
"You saw it today how good he is. He's the best finisher in the game comfortably," added Maxwell on Sunday. "The way he assesses a situation, gives himself that little bit of time and dominates bowling at the death.
"And even with the ball, being that surprise packet, getting that wicket first ball, surprising Joe Root who didn't really look like making too many mistakes there.
"He's a vital part of our one-day side and hopefully he's playing this whole World Cup."
The good thing from Faulkner's point of view is that such is the format at the World Cup, that the real tournament only really begins in the quarterfinal stages. And that might help his cause in the selectors deciding to keep him in the squad even if he is ruled out for the first couple of group matches of the World Cup/
Australia begin their World Cup campaign with a rematch of the tri-series final against England on 14 February at the Melbourne Cricket Ground.