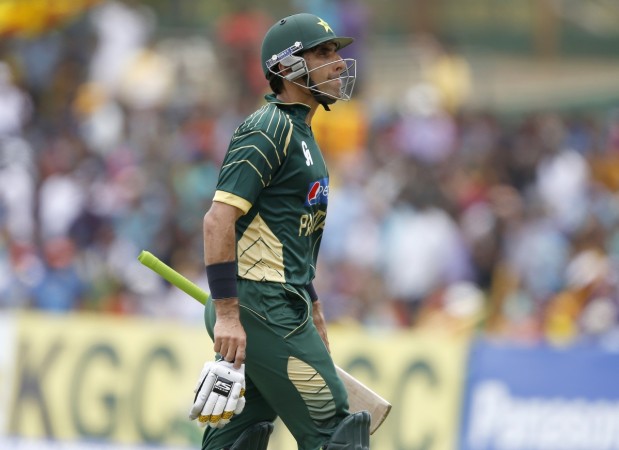 Catches win matches is an old saying, but it still holds true as was witnessed during Sunday's World Cup match at Adelaide Oval between India and Pakistan.
The men in green were dismal on the field, where they missed more than one catch to give lifeline to the Indian batmen.
More importantly, it was the catch, which Pakistani wicketkeeper Umar Akmal dropped with Virat Kohli on the crease that cost Pakistan the game, as Kohli came up with his 22nd ton in the fifty over format.
Former Pakistan Captain, Imran Khan felt that Pakistan should not have played part-time wicket keeper. But, Pakistan did so, as they wanted to play a balanced side and with Akmal keeping wickets, Pakistan had an option to play a batsman or a bowler.
But, the plan did not work out as Pakistan wanted and Imran Khan felt playing Umar Akmal was a big mistake.
"I always believed in having specialist players and I think playing Umar as a keeper was a mistake and it cost us," he said on a local television channel.
Had Akmal latched on to that outside edge, the fate of the match could have turned in Pakistan's favour.
However, the cricketer turned politician also heaped praises on Virat Kohli.
The Delhi lad scored 107 runs from 126 balls, which proved to be a pivotal knock for India to register their sixth victory against Pakistan during a cricket World Cup.
Pakistan have still not broken their World Cup jinx against India, as they have lost in the 1992, 1996, 1999, 2003, 2011 and the 2015 World Cup as well.
"I watched a cricket game after a long time today and my sons were also with me. I think Virat Kohli was the key for India and batted very sensibly while the way our fast bowlers delivered in the end was very satisfying," Khan said.
India were pegged down by the Pakistani quicks in the slog overs of the game, where India could have easily finished with more than 320 runs.
Many Pakistan batsmen started off well, but could not play a big innings to take the men in green closer to India's score. Only their skipper, Misbah-ul-Haq showed some character as he played a gritty innings of 76 runs.
Imran Khan stated that the skipper will play an important role in the World Cup.
"He has a big role to play in this World Cup because he is batting very well and he is a very sensible and stable captain but at times I think he needs to push for wickets,"
"Misbah has emerged as a very sensible captain who had brought stability to the national team. He is in very good form and that is good for Pakistan because at times a captain in form can spur his team to perform beyond their capabilities."
Though Pakistan might have lost their first game, they can still play good cricket and reach the World Cup finals and even win the elusive title.
But, from here on, they need to play consistent cricket to put up challenge against bigger teams in the competition.