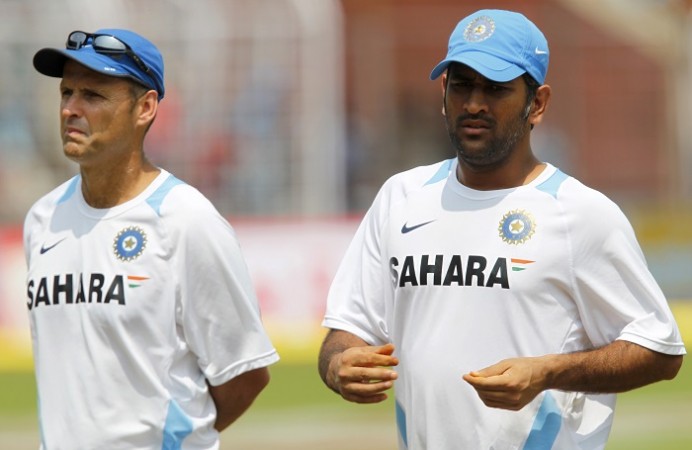 Amongst a number of foreign coaches for team India, Gary Kirsten was the most loved and respected, as the former Proteas opener helped team India win their second World Cup title in 2011.
The South African understood the team more than anyone else, though he always preferred to stay in the background, unlike Greg Chappel, one coach, who tormented Indian players during his reign. The Australian was unsuccessful as an Indian coach.
Kirsten may no longer be the coach of the Indian cricket team, but he feels that the current Indian team can retain the title.
"They can retain the title. Absolutely! Everyone seems to write off India but that is a very dangerous thing to do because they know how to play knockout games. They did incredibly well in 2011 and they have a good reference point there," IANS quoted him as saying.
"They have got a serious batting line-up. (Virat) Kohli, (Suresh) Raina, (Mahendra Singh) Dhoni are World Cup winners and know what to do in these situations," said Kirsten.
Many former players may have outlined India as semi-finalists, but few have stated that the men in blue are among the contenders. Australia and South Africa are tipped as hot favourites.
Some former players like Mike Hussey has not even picked India as one of the semi-finalist for the mega event.
The Indian team, to a large extent depends on how Virat Kohli performs during the competition. His form would be crucial, as was established during the first match, where his century helped India put up an impressive score of 300 odd runs against Pakistan.
Apart from Dhoni and Raina, Indian openers Rohit Sharma and Shikhar Dhawan also needs to have a decent World Cup for India to defend the crown.
The Indian team cannot afford to lose early wickets, as it would pressurise the middle order.
Apart from the senior players, the Indian team also comprise of young guns such as Ajinkya Rahane, Ravindra Jadeja, Mohit Sharma, Stuart Binny etc, who could prove to be important players during the competition.
"Then you have some real young talent around. Don't discount them, they know what they are doing," said former Indian coach.
But, considering the last World Cup, where India played with full crowd support under flat decks, things are different this time around in Australia and New Zealand, especially the playing conditions.
Pitches in Australia and New Zealand assist bowlers with movement and bounce, which was absent in 2011 World Cup. The Indian team needs to be on top of their game to win the trophy for the third time in their history. It should be a combined team effort.
Like many experts, Kirsten predicts Australia, South Africa, New Zealand and India to be the final four in the competition.
"World Cups are always open-ended but this time Australia, South Africa, New Zealand and India are kind of the top-four. Also, you can never discount Pakistan. It is difficult to predict in World Cups," said Kirsten.