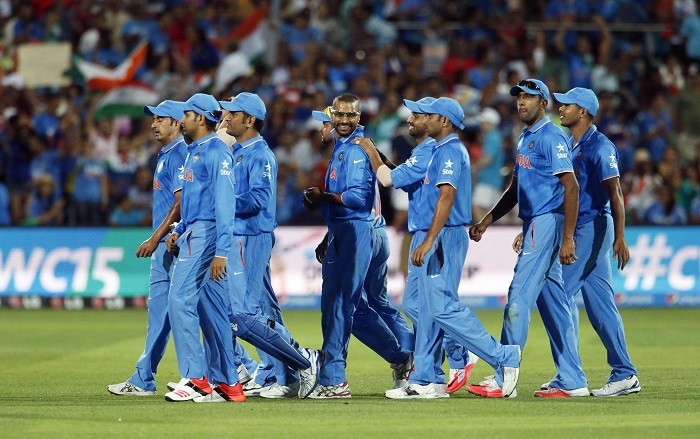 Such has been the performance of the Indian team in the World Cup, that a number of cricket experts and former cricketers see India as one of the favourites to win the trophy, which they won during the last edition as well.
Australian bowler Brad Hogg is one such cricketer who claims India will win the trophy. One may be surprised that the Australian does not even consider that the Aussies will reach the finals of the competition, as he expects an India-New Zealand final.
But the Aussie bowler sees Australia reach the semis. "I think the four teams who will reach the semifinals are India, South Africa, New Zealand and Australia," stuff.co.nz. quoted him as saying.
"And I think India and maybe New Zealand might get there [to the final]."
"I really want Australia to win, but you just have those gut feelings that something is going to happen."
The Black Caps currently top the group with 8 points from 4 matches with a cent percent win record in the competition. New Zealand have looked a very comfortable side in the competition as they have defeated big teams such as England, Sri Lanka and Australia.
On the other hand, the Aussies only have a single win in their kitty as their game against Bangladesh was washed out after their victory against England. So their game against Sri Lanka this Sunday could prove to be a crucial one as it could well decide the fate of the group standings.
While, in the other group, India seems to be on course to take the number one spot and play the fourth placed team in the other group.
Things have changed around for India in Australia after their horrendous performance in the Test series as well as the tri series, where they struggled in all departments of the game.
In their three games against Pakistan, South Africa and UAE in the ongoing competition, the team has played together as a unit, where the batsmen and bowlers have put a splendid performance. Apart from this, the Indian team have been very lively on the field, which has become an added bonus.
"I was a little bit worried about them emotionally because they hadn't won a game while they were here for the test series and ODIs," Hogg said.
"But they've really turned it around."
"I think India are going to turn their fortunes around and win the World Cup."
India take on West Indies in their next game this Friday and a victory against the Caribbean side could increase their chances of claiming the top position in the group, as India play two minnows, Ireland and Zimbabwe in their last two fixtures in the group stages, which they are expected to win.