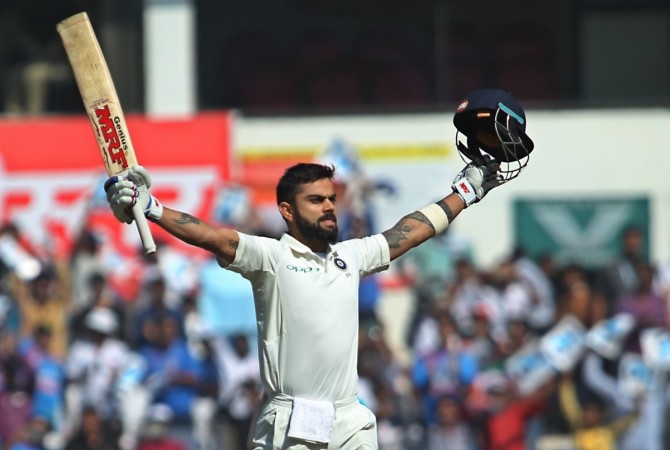 Virat Kohli has jumped three places to the second spot on the International Cricket Council (ICC) Test rankings, released on Thursday, December 7. The Indian captain has 893 points, 45 less than world number one Steve Smith.
Kohli, who started the recently-concluded Test series against Sri Lanka at the sixth spot, leapfrogged David Warner, Cheteshwar Pujara, Kane Williamson and Joe Root after he hit 610 runs, including two double centuries, in the three-match rubber.
Kohli, who is already the number one-ranked batsman in ODIs and T20Is, has the opportunity to become the only second batsman in the history of the game after Ricky Ponting to hold the top spot in all three formats, simultaneously.
Also read: Virat Kohli reveals why he took rest and skipped Sri Lanka ODIs, T20Is
The World Cup-winning Australian captain was the numero uno in Tests, ODIs and T20Is between December 2005 and January 2006. His former teammate Matthew Hayden had also been the top-ranked batsman in all three formats, according to the ICC.
However, Smith is certainly standing in between Kohli and Ponting's record as the Australian captain has been in fine form in the ongoing Ashes series. The 28-year-old New South Wales star hit a match-winning 141 in the Brisbane Test against England and has led them to a 2-0 lead with the win in Adelaide on Wednesday, December 6.
It will be interesting to see if Kohli is able to maintain his consistent run, given India will be playing most of their matches overseas in the next 18 months. Notably, the world number one Test side, which has dominated top teams at home over the last two years, will start its quest for dominance on the road with a tour to South Africa, starting January 5.
Pujara, Ashwin slip
Meanwhile, Joe Root has consolidated his third spot, while Cheteshwar Pujara has slipped two spots despite amassing 249 runs in the Test series against Sri Lanka.
Murali Vijay (up three places to 25th) and middle-order batsman Rohit Sharma (up six places to 40th) are the other India batsmen to move up.
In the bowlers' rankings, Ravindra Jadeja slipped a place to third while R Ashwin retained his fourth spot. On the other hand, the Tamil Nadu star dropped to fourth from third in allrounder's ranking as he was leapfrogged by England star Ben Stokes.
Complete ICC Test rankings (as of December 7, 2017)
Top 10 batsmen
| | | |
| --- | --- | --- |
| Position | Player | Points |
| 1 | Steve Smith | 938 |
| 2 | Virat Kohli | 893 |
| 3 | Joe Root | 879 |
| 4 | Cheteshwar Pujara | 873 |
| 5 | Kane Williamson | 865 |
| 6 | David Warner | 815 |
| 7 | Hashim Amla | 795 |
| 8 | Azhar Ali | 755 |
| 9 | Dinesh Chandimal | 743 |
| 10 | Dean Elgar | 732 |
Top 10 bowlers
| | | |
| --- | --- | --- |
| Position | Player | Points |
| 1 | James Anderson | 894 |
| 2 | Kagiso Rabada | 876 |
| 3 | Ravindra Jadeja | 870 |
| 4 | R Ashwin | 829 |
| 5 | Rangana Herath | 799 |
| 6 | Josh Hazlewood | 786 |
| 7 | Neil Wagner | 785 |
| 8 | Mitchell Starc | 775 |
| 9 | Nathan Lyon | 774 |
| 10 | Dale Steyn | 748 |
Top 5 all-rounders
| | | |
| --- | --- | --- |
| Player | Position | Points |
| 1 | Shakib Al Hasan | 438 |
| 2 | Ravindra Jadeja | 415 |
| 3 | Ben Stokes | 380 |
| 4 | R Ashwin | 369 |
| 5 | Moeen Ali | 352 |