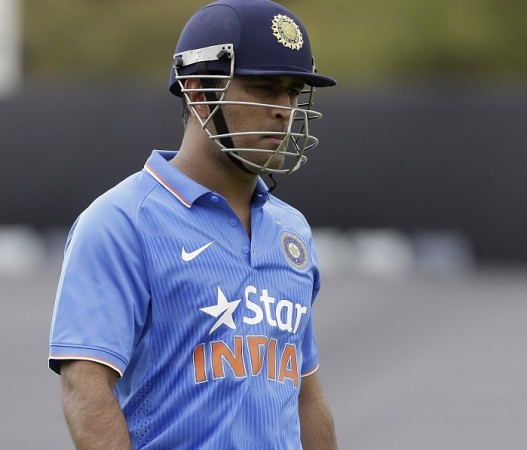 As doubts continue to linger over the fitness of India's bowlers, MS Dhoni has given an indication of the possible inclusion of Mohit Sharma in the 15-man squad (at whose expense it remains to be seen) ahead of the ICC Cricket World Cup 2015.
India struggled with injuries throughout the recently-concluded tri-series, also featuring Australia and England, a series in which they failed to win a single match.
Ishant Sharma did not feature at all with a knee injury – he was included in the match against Australia at the SCG , but the game was rained out – while doubts remain over the availability of Mohammed Shami and Bhuvneshwar Kumar, with Ravindra Jadeja only just making a comeback from an injury as well.
That prompted the BCCI to keep Mohit Sharma and Dhawal Kulkarni back in Australia, with Mohit the favourite to take a World Cup place, if one of the bowlers fails a fitness test on Saturday, a day before India's first warm-up match, against Australia, in Adelaide.
To ensure most of his bowlers are in peak condition heading into the World Cup, Dhoni has reportedly taken Ishant, Mohit and Bhuvneshwar to a recreational camp, according to the Times of India, a few hundred kms away from India's base in Adelaide, where they play both their practice games and the cannot-miss-it opener against Pakistan.
"It's an initiative of the captain himself," a BCCI source told TOI. "It's evident that he wants his pace bowlers to be mentally fresh for a difficult couple of months ahead."
It is not known yet why Dhoni chose just those three bowlers – with Umesh Yadav and Shami apparently remaining behind – to take to the camp (you know, one of those with physical activities like rock climbing and what not) but what catches the eye more is that Mohit has been included.
The skipper might just be ensuring Mohit, who hasn't had too many games of late, is fit and raring to go if he is called up, but it could also mean that one of the bowlers might just fail to pass that final fitness test on Saturday.
Hopefully, India go in with the same 15 originally selected, but the last thing they will want to do is take someone with a niggling injury, especially considering the team need all their resources in the bowling department.
Bowling continues to be India's Achilles heel, and the sooner the men with the ball in their hands find their groove the better.
They will face their most intense test in their very first match of the World Cup, when they take on rivals Pakistan, a team India have never lost to in this mega tournament's history.